Euromoney names BBVA the best digital bank in Europe in 2022
BBVA is the winner in four categories of the 2022 Euromoney Awards for Excellence. The bank is 'Western Europe's Best Digital Bank,' 'Latin America's Best Bank for Corporate Responsibility,' 'Mexico's Best Bank' and 'Mexico's Best Investment Bank.'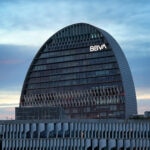 The UK magazine Euromoney, a leading publication in the financial sector, has unveiled the names of the winners of its '2022 Awards for Excellence.' BBVA has been recognized for its global strategy focused on digitization and sustainability as key levers of the bank's global transformation.
In 2022, BBVA has continued to drive forward its digital commitment by rolling out innovative solutions for individuals and businesses. The Euromoney accolade recognizes the launch of a 100% digital offer in Italy, based on the bank's experience in Spain and its banking app that stands at the top of the awards league table in the financial sector. In addition, BBVA introduced its new Aqua cards, which set a new standard in security thanks to their dynamic CVV and the fact that the card number is not printed on the card itself, debuted a cryptoasset custody and trading service for private banking customers in Switzerland, and the New Gen digital account, which lets users combine traditional and digital financial assets in the same investment portfolio.
The British publication also placed value on the bank's use of digitization as a lever to advance sustainability, such as the digital carbon footprint calculator, a price comparison tool for electric vehicles and digital olutions to improve customers' financial health.
BBVA has also been recognized as Latin America's best bank for Corporate Responsibility, thanks to a wide array of initiatives implemented by the Group's franchises in the region. In 2021, the Global Financial Literacy Plan invested close to €2.2 million.
Finally, Euromoney has presented BBVA's business in Mexico with two awards: best bank and best investment bank. BBVA's retail franchise leads the Mexican market, with a market share of 23.7 percent in loans and 23.63 percent in deposits (as of Dec. 2021), and is the most profitable bank in the country, with ROE of 23 percent vs. the industry average of 12 percent. In investment banking, the BBVA unit ranks first as an M&A advisor, with one of the largest teams in the country, and has topped the Mexican debt capital market for the eighth consecutive year, with a market share of 23 percent at year-end 2021. Finally, the Mexican corporate lending team has retained its lead in the syndicated loan market for the seventh consecutive year, with 31 deals of a total value approaching $13 billion.