Will connected cars need their own bank account? The BBVA New Digital Businesses (NDB) unit is working to anticipate the opportunities and challenges that will arise in the financial industry when the Internet of Things (IoT) makes it possible to manage transactions directly among objects, people and organizations.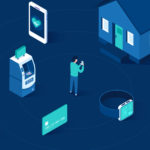 In 2019, there are already 26 billion objects around the world connected to what is known as the Internet of Things, and it is estimated that this number will double in just four years. The connectivity of these devices is already part of our everyday life: watches, cars and thermostats around the world collect and send their activity data to companies and people in order to facilitate a greater control over their use, and also make their power consumption more efficient.
There's still a long way to go —and objects to connect—, but the rapid technological advance is enabling the materialization of new IoT opportunities for industries such as the financial industry. "The increase in processing capacity, the great availability of data and the rise of cloud computing, as well as the imminent arrival of 5G networks, make this the right moment for us to start to see concrete results and exploit the true potential of this technology", explains Carlos Kuchkovsky, Chief Research & Development and Technology Officer at BBVA NDB.
In this regard, NDB has been carrying out research and proofs of concept (PoCs) for several years in order to explore the challenges and opportunities of this new technological scenario, as well as the emergence of new concepts and business models.
Financial needs of connected objects
Firstly, NDB is studying how, when connecting objects like vehicles or household appliances, new financial relations may arise which are associated with the connected objects themselves. For example, if a connected autonomous car is part of a shared vehicle fleet, could the car itself directly charge its users using the data gathered from the trip? And in that case, would the car need its own wallet in order to manage these transactions autonomously? "This could also be applied to a smart rental house, which may then be considered as a sort of 'customer-object' for whose needs we must prepare" says Kuchkovsky.
"Thanks to the IoT, we would be able to measure the environmental impact of factories, vehicles or houses in real time"
In this context, the 'bank of connected things' could be responsible for creating products and services to cater for the needs of these 'customer-objects', such as accounts, insurance and payment platforms. Furthermore, meeting the financial needs of connected things would also entail resolving a number of challenges, both technical and regulatory, and even ethical. "Who will have sole responsibility when a smart object becomes capable of managing financial transactions autonomously? And how will we manage ownership over the data collected on these transactions in order to ensure privacy for all parties involved?" asks Kuchkovsky.
Additionally, just as there are complex "Know Your Customer" processes designed to verify clients' identity, Kuchkovsky suggests the need to create "Know Your Device" processes and mechanisms which help ensure that connected devices "are" who they say they are and that their collected data are reliable. These are only a few questions that were posed in the NDB unit to try to lay the foundations of what could be an "economy of connected things" whereby all "programmable" objects will be able to interact with people, companies and digital assistants to create value.
New business models and opportunities
Secondly, NDB has analyzed the new business models that may emerge in this scenario, where BBVA could act as a digital agent in order to create opportunities for customers, organizations and society in general. For example, having real time information could help create new kinds of smart insurance that would automatically collect data from connected objects, or generate new risk measurement systems ("credit scoring") that immediately process object activity or building activity.
Furthermore, financial entities could take advantage of the connectivity of things by providing products and services fostering a more sustainable use of resources, in the same way as "smart cities" enhance power efficiency in the cities. "Thanks to the IoT, we would be able to measure the environmental impact of factories, vehicles or houses in real time, and use that information to create financial solutions or products that take these parameters into account in order to promote a responsible use of resources", assures the R&D officer at NDB.
In this regard, BBVA is already positioned as one of the financial leaders in using technology for issuing climate bonds intended to fund sustainable projects, such as renewable energies or waste management. "Using IoT we could enhance the traceability and transparency of this kind of projects", adds Kuchkovsky. Additionally, this kind of sustainable financial product could be made more efficient and even automated by combining it with other technologies such as artificial intelligence and blockchain.
New technological paradigms for the IoT
To get ready for the arrival of this ultra-connected, programmable, smart – and possibly more sustainable – future, first we must understand which technological changes are necessary. NDB has made progress through the analysis and proposal of new data architectures capable of supporting the implementation of this kind of solution safely. This context frames the development of Archer, an open-source data architecture which, unlike traditional web services and big data architectures, takes several critical aspects into account for the advancement of IoT, such as data management interoperability and flexibility.
NDB is also exploring the potential of new computing paradigms such as edge computing and so-called federated learning, which might help solve some technical and regulatory challenges raised by the IoT. Firstly, edge computing raises the possibility that network-connected devices themselves (such as street lights, lights or vehicles) may process the collected information on site, instead of constantly sending data to the cloud to perform each analysis. "This would remove data load from the cloud and thus reduce latency and speed up data traffic", explains Kuchkovsky.
Secondly, federated learning is a system where data which feed automatic learning models are not located in one server only, but distributed in a decentralized device network. Through this approach, IoT systems could be integrated into artificial intelligence systems so that real-time information integrated through connected devices may be processed immediately in order to modify its behavior and improve its performance. This technology proposes a solution to the problem of how to manage ownership and privacy of data stored in IoT devices, since it would mean that not all information needs to be shared, but only the variables necessary to train machine learning models. In this way, it would be possible to extract data value to feed artificial intelligence engines and simultaneously store those data privately and safely.
"At NDB we are closely following the challenges arising from the combination of technologies like artificial intelligence and the IoT, while protecting privacy, security and data of the transactions between any person, organization or connected thing, in the search of new ways to create added value for customers, who are the real owners of their data. And the development of these technologies is key to determine the role BBVA may play in the future for opportunities related to the economy of connected things", concludes Kuchkovsky.