The roll-out of networks with speeds far superior to 4G will improve customer experience and allow for real time information processing, making communications more secure.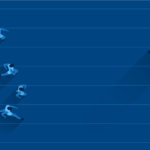 5G is destined to revolutionize multiple sectors of society. This technology, which will offer speeds 10 times faster than 4G, will also enable higher connection density in terms of the number of connected devices for each receiving unit and reduced latency. Its impact will be evident in self-driving cars, virtual reality, remote surgery, smart cities, and of course, in the banking industry.
Spain's 5G implementation timetable points to 2021 as the year when commercial networks of this technology will emerge. But some cities in the world already have this kind of network, and projects underway that are based on 5G technology. In collaboration with Telefónica, BBVA plans to launch two 5G antennas in the last quarter of 2019 to provide communication services to BBVA City and the Tablas II building. The pilot project will consist of access to financial market services that require reliable communication with very low latency - things that are currently only possible by using specific infrastructure for communications.
Experts agree that in banking and financial services, 5G will be mainly geared toward improving customer experience. For example, it will mean new ways of delivering products and services to the end users. BBVA communications expert Francisco Oliveira explains: "It wouldn't be out of the ordinary to purchase products that had previously been presented on virtual or augmented reality, for example."
Eduard Martín Lineros, CIO & 5G Programme Director at Mobile World Capital Barcelona and the Dean of the Official College of Computer Science Engineers of Catalonia, indicates that 5G will make "more and better services available to the end user so that financial transactions can take place any time, anywhere." Basic online transactions, he maintains, could be enhanced by virtual assistants in real time, enabling more complex queries that are currently not possible.
5G will also improve bank apps and infrastructure. Xavi Vilajosana Guillen, researcher at the Wireless Networks Group's Internet Interdisciplinary Institute (IN3) at the Open University of Catalonia, says that the apps and infrastructure will have greater capacity, and therefore more powerful data analysis with larger volumes of information will be possible.
In banking and financial services, 5G will be mainly geared toward improving customer experience
The arrival of 5G is accompanied by what is known as "edge computing". As Oliveira explains, this will reduce network latency, bringing services closer to users. In other words, network nodes will have standalone computational capacity and information will not have to go to the cloud to be processed. Thus, data avoids having to travel long distances, reducing cloud workload and facilitating real time analysis.
In addition to improving customer experience and bank infrastructure, Oliviera stresses that processing information in real time will make it possible to increase the security of communications. "For example, banking services security mechanisms can be improved with more accurate biometric technologies, with increased processing power. And these verifications can take place on a cloud server, given the low latency and high speed of the network, thus simplifying our smartphones' information processing workload while enhancing risk prevention and security mechanisms."
Whereas 4G networks do not have any kind of native prioritization of services, one of the most novel features of 5G networks is the so-called "network slicing" capabilities; i.e. the ability to segment the network offering priority and guaranteed services. Although any new technology comes with security questions, experts say that 5G, with its characteristic technologies like "slicing", can also make transactions and financial operations more secure.