One of the most important steps when launching a startup is the financing phase. How do you get finance? How do you convince your future clients or investors? Here are some tips that can be useful for you.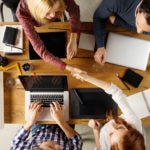 If you have taken the plunge into entrepreneurship, then no doubt that at some phase of your project you have to find the finance needed to maintain your startup. This is probably one of the key moments in developing a project, so take good note of these four tips.
They are four tips that will help you prepare to present your project attractively to potential investors:
Credibility. Your presentation to investors must above all be credible, because they are going to invest in you, in your idea, in your project. The challenge is to convince them to choose you.
Create an attractive proposal. One way of convincing them is to be attractive. It's not only a question of presenting a solid project in business terms, but to transmit the reason why your project is necessary, what problem it resolves that makes it sellable or consumable by end users.
Training. Most investors take a good look at your team and its training, because although your idea may be great, if you don't have the right human resources for executing it they will usually reject it.
Visibility. The project has to be promoted very well and publicized so that it is talked about and this information reaches the possible investors. Marketing is a good tool.