Fifty-years ago today on June 27th, 1967 the world of retail banking changed in a significant way.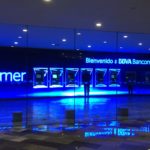 On a street corner in the borough of Enfield in London, Barclays bank unveiled the first ATM machine the world had ever seen. It was a simple device, designed to dispense £10 notes in return for a special voucher which the customer inserted into the machine and followed up by typing a personal code. But offering customers the opportunity to get cash whenever they wanted, 24-hours a day, marked the start of a revolution in banking that businesses like BBVA are still building today.
That's because this basic machine signified the beginning of computer-based digital retail banking —as well as the start of do-it-yourself services— allowing customers to bank when, where and however they want. Today, banks like BBVA are working harder than ever to bring customers the latest in convenience in how they bank, while also developing ATM functionality.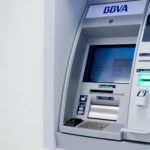 BBVA's new generation of ATMs are capable of recycling the banknotes they receive from deposits to be used in cash withdrawals.
BBVA has historically been a market leader in ATMs in Spain. Its machines were the first to offer cash deposits (envelope and also banknotes), client customized screens, and contactless use (in 2015). These improvements and features allowed BBVA to jump from fourth to first place in the ATM channel NPS (Net Promoter Score).
Little details matter
In 2011, BBVA became the first bank in Spain to introduce multi-function touchscreen ATMs. These devices not only adapt to the customer's typical usage —for example suggesting the bank notes usually preferred or services most used— but also allow customers far more access to services (up to 70 features) than before.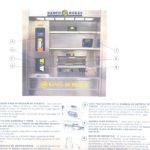 One of Banco de Bilbao's first ATM with user's instructions.
BBVA's network of ATMs in Spain exceeds 6,700 units, with machines being replaced every eight years, way above the market average of 10-12 years. As part of the bank's digitization and automation efforts, BBVA has also "upgraded" its ATMs to offer a more seamless and  improved user experience, even for customers who are not fully-digital.
The bank is currently completing the deployment of its new generation of ATMs  - a process that began in 2016. These ATMs are capable of recycling the banknotes they receive from deposits to be used in cash withdrawals. This feature not only reduces costs, but it also saves time, as it requires less downtime to load the machines with banknotes. "Our ATMs are really smart machines, which allows them to act as a selling channel for one-click products, but they also are the preferred channel for customers transitioning from more conventional banking into fully-digital customers," said Pepe Fernández, Head of Channel Transformation of BBVA.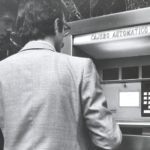 This photograph was taken on Jun. 6th, 1975, at Banco de Bilbao's office in 1, Gran Vía avenue.
First-class service in Latin America
BBVA has also continued to develop ATM services in Latin America, offering one-click loans and insurance that are sold E2E through the machines.  The bank even has ATMs in Peru where customers can buy a ticket to see their favorite soccer team and choose their seats to  watch all the action.
Meanwhile, Garanti, the leading digital bank in Turkey already allows customers to withdraw cash by generating a QR code on their mobile app and then having the ATM scan it. In the future this will be expanded to cash deposits, card payment and other transactional services.
So what's next? The truth is that customer's behavior will determine that. While cash itself is expected to become less important in the future, ATMs will continue to play an important part in ensuring customers can access a wide array of services where it suits them best. Branches will also continue to be an important part of banking as it's clear customers still value these services.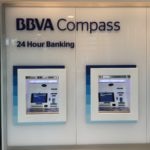 ATMs in a Houston's branch of BBVA Compass.
Increasingly though, the ATM of the future will be a customer's mobile device of choice - be that a tablet or a phone. As mobile apps get better and better —and Forrester just named BBVAs as the best in Europe— the need to have a physical connection to the bank's system - as the ATM provides - becomes less necessary.
BBVA Wallet, for example, allows NFC payments to a huge range of shops and services, negating the need for cash. Equally, as AI-driven services become more prevalent, the advisory and informative services that can be accessed through mobile platforms also increase.
For example, Garanti's MIA voice activated assistant service in Turkey answers questions about the latest account activity, performs transfers, lets customers buy or sell foreign currency or find out the exchange rate… all without having to type a single letter on the phone. In addition to traditional banking transactions, MIA also lets customers ask about promotions and discounts in nearby businesses. It can even anticipate users' needs by analyzing their habits.
So, ironically, while the ATM kickstarted the retail digital banking revolution by allowing customers to withdraw cash without going into a branch - in the future, that may become their primary purpose once again.