This young entrepreneur is in no doubt –his country has been essential in his career as an entrepreneur. That's why now, as Innovator of the Year in Colombia, his advice is never to stop trying, which can only be done by engaging in something that satisfies you. This is the portrait of this young Innovator under 35, winner of the MIT award supported by BBVA.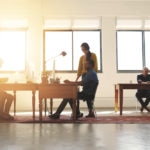 After winning the award for Innovator of the Year in the Spanish edition of the Innovators under 35 awards orgnaized by the MIT Technology Review and supported by BBVA, Javier Mauricio Betancur, aged only 33, talked to the BBVA Innovation Centre and gave advice to other young entrepreneurs.
Betancur highlights above all the role played by incubators in innovative projects being developed all over the world. In his case, he received the support of Ruta N in Colombia. "They gave us a lot of support" at a key moment in the development of the product: the trials and the industrialisation process".
In this regard, the Innovator of the Year speaking from experience, recommends "doing something that really satisfies you, and not just going after the money. At the hardest times –and there are a few– what keeps you from giving up is knowing you're doing something you love", says the young Colombian entrepreneur.
And it's been a long road. The manager of Tecnologías Marte, a Colombian startup, has spent over five years working on projects with biomimetic reinforcements, and half this time has been dedicated to these insoles that reduce the impact of landmines and so-called improvised explosive devices. "The insoles absorb the heat impact and fragmentation and can prevent a person from losing their lower limbs".
Next year they are due to roll out a pilot program by delivering 100 insoles  to a community in Antioquía.