The movie 'The Social Network' (2010) tells the story of Facebook, a social network community initially only used by Harvard students. Less than thirteen years later, the social network numbers 2 billion active users per month. A small group of "giants" control the majority of Internet communities, but what about other social networks that are attractive to different niches?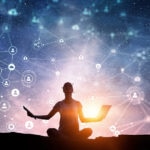 Instagram champions the carefully groomed images of style and esthetics. Twitter is dedicated to everything related to "microblogging", short-length opinions and content. LinkedIn is the official network of the working world, whereas YouTube contains millions of minutes of video for all tastes. Each of these social networks seems to have monopolized a content area, although in the past few years Zuckerberg's empire has tried to gain ground on the rest.
In today's society users don't settle for one or two social network profiles.  According to a report by Spain's Interactive Advertising Bureau (IAB), the Annual Study of Social Networks 2017, Spaniards between the ages of 18 and 65 visit more than four social networks on average. This year audiovisual content has overtaken pictures and music, which is attributable to Facebook and YouTube leading the list of the most used platforms, especially among under 30-year-olds.
This study, however, like most reports, only takes into account 10% of existing social networks in the world. Currently, with more than 200 undeniably popular networks, one mustn't overlook some of those that have conquered whole niche segments of the population.
1. For those in-the-know
Although founded in 2015, 2018 is when Vero really became known. It touts itself as an alternative to Facebook, Twitter, and Instagram and has been turning heads with a clear message: "Less Social Media, More Social Life." Its interface supports sharing links, book reviews, photos, videos, etc., in addition to more precise management of what friends can see—defining content profiles for each kind (best friends, casual friends, acquaintances)—and committing to not changing the order of publications as a function of algorithms.
However, as this social network platform has increased its user numbers exponentially, it has suffered connection issues. Vero notes that it is in development phase. Access to its network has been free for the first three million users, but the company has announced that it will soon communicate when it will begin to charge for its service and how much.
2. For the elite
Being a star, being international and being invited by someone. Those are the essential entry requirements into A Small World, which intends to be not only a social network but also a social club where one can navigate and meet high status people. An annual membership fee of $110 provides access to the services and privileges hidden behind the application.
Its creators claim that celebrities like Christina Aguilera and Brat Pitt have profiles in this "premium" social network. Although it is almost impossible to join, rubbing elbows with the international "jet set" is appealing.
Those who are interested in surrounding themselves with nautical luxury, will like  Findacrew.
3. For literature lovers
The social network Goodreads was founded in 2006 for lovers of literature and such. Among other things, its tools facilitate choosing books from a catalog to create reading lists, creating discussion groups, and accessing recommendations from other users. In addition, one can share books written by "amateur" authors with the aim of helping them with distribution.
Currently it is only available in English, but registration is free and there are a series of rules and controls to stop cyberbullying. It's a project that promotes reading in the form of a social network.
Those who prefer graphic novels will be interested in  Social Anime.
4. For supporters of good causes
The twenty-first century seems to be the era of the "haters" and anonymous profiles used to harbor intolerant comments. In these times when social media is dominated with hate,  Kindness has emerged, a platform that aims to encourage acts of kindness among its users.
It's a simple process: you choose an initiative, record it, and later share it with the community. This encourages the rest of the community to follow in the footsteps of others. This network proves that even a "like" can make the world a better place.
Those who prefer to anonymously leave messages or ask questions they wouldn't dare in person will be interested in  Whisper.
5. For barkers
They say dogs are a man's best friend, and so it seems in social media as well. Doggy Talky, launched in 2012 and, according to its web page, already well established in more than fifteen countries, is a geolocation service for the family dog. The social network shows profiles of dogs nearest the user.
What other features does this network provide? It allows other dog-owners to talk, exchange photos, arrange meet-ups and dog walks.
For those who want to meet people in airports there's Meetattheairport.
6. For future pop stars
Sing. Record. Post. These are the basic principles of RedKaraoke, a social network that boasts more than 120,000 songs. It allows its users to choose between different categories, make their recordings—alone, in pairs, or in larger groups—and later share with the rest of the community.
Each week RedKaraoke adds new songs to its catalog and it has an automatic recommendation engine. The platform describes itself as a "recording studio in the smartphone."
Those who prefer knitting to singing will be interested in Ravelry.
7. For barley enthusiasts
Almost everyone of legal-drinking age enjoys meeting up with friends for a beer. A "millennial" refreshment deserves its own social network with authentic beers, and that's what Untappd offers: a social network that allows its users to score beers from around the world and share their own photos and opinions about what they are drinking with other users.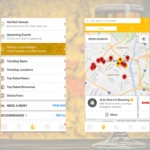 Screenshot of Untappd - Own development
It uses an interesting system of "medals" to attract users: when users register new beers or when uploading photos during special dates, they can earn different insignias, in genuine boy-scout style.
Those who prefer a burgundy will be interested in Vivino.