Age makes a difference – a big one – when it comes to downloading apps. Centennials prefer Snapchat, Instagram and Vine. Millennials like Tinder and Soundcloud. Generation X looks for apps to watch movies and for travel. And baby boomers? They prefer apps to monitor their health.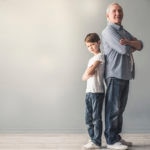 "Unlike the millennials' mentality of sharing everything on social networks, those under 18 (centennials) prefer to share only certain stories with certain people on specific platforms," explains Forbes magazine in one of their articles on centennials.
Centennials, or the so-called Generation Z, tend to download apps that are instantaneous, require less personal information and are visually appealing. While millennials and Generation X prefer Facebook, the centennials see Mark Zuckerberg's platform as something "from the past", illustrating the generational changes, according to Martin Sorrell, CEO of the advertising group WPP.
Snapchat, Instagram and Vine
It's a reality. The youngest generation does not use social networks like the generations that came before them. According to the Center for Generational Kinetics, which specializes in research on Generation Z and millennials, centennials prefer messaging and peer-to-peer social media apps like Snapchat, Instagram and Vine. They are known for sharing their own images, which makes Instagram an excellent way to connect with them or get to know their interests. And if there's something that really concerns them it is keeping their "things" away from family. That's why they love platforms like Snapchat in which the content exists for a set period of time.
More than half of centennials trust mobile banking apps"
YouTube is also one of their favorite apps. Keeping in mind that they have very low tolerance for traditional advertising,  it's no surprise that the leading video platform catches their attention. In fact, 30% of centennials find YouTube commercials more believable than those from any other source, including television, newspapers, the radio and social networks, according to the study "The State of Gen Z 2017: Meet the Throw Back Generation", published in April by the Center for Generational Kinetics.
Mobile banking apps are not lagging behind. The same study found that more than half of centennials trust mobile banking apps. Specifically, 54% of the interviewed minors have not set foot in a bank in the past month, compared to 30% of millennials.
However, if there is a generation that stands out for using the most apps, it's the one that is currently between the ages of 19 and 35 - the millennials.
The U.S. online marketing research company comScore, published a study last year that listed the apps with the greatest number of millennial users.  According to their report "The 2016 U.S Mobile App Report", the "most millennial" app in 2016 was Yik Yak, a messaging platform that allows users to create and view messages anonymously. The app announced that it was closing at the end of April this year. This is not to say that it was the most used or most downloaded app among Generation Y, but it was the app with the greatest number of Generation Y users - specifically 99%.   Other apps like Tinder and SoundCloud concentrated 75% and 74% of millennial users respectively, followed by Snapchat, Youtube, Layout for Instagram and Airbnb.
This comScore study reveals another important fact. Generation Y not only uses more apps than any other generation; they also spend more than the average using top apps. However, this concentration of activity in certain apps reduces progressively with age.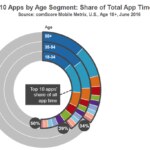 Graph on the 10 apps each age group uses the most. Source: comScore
In recent years, apps have become a real ticking time bomb for brands, given their influence on millennials. In fact, according to Oracle's report "Millennials and Mobility: How Businesses Can Tap into the App Generation" a bad experience with an app can make millennials disconnect from a certain brand. More than half of those surveyed (55%) say they would stop being customers of a brand after having a bad experience with their mobile app.
Apps that don't waste your battery
But what is it that motivates Generation Y to download an app? Mindsea, a mobile app development platform, says that the main factor millennials have in mind when installing an app are its unique characteristics and main purpose, as well as if their friends recommend it.
An app that doesn't waste your battery, use a lot of data or drown the user with push notifications will be highly valued by millennials. In fact, 49% of millennials admit that they hate tools that leave them without a smartphone prematurely. They also are annoyed by apps that force them to use both hands.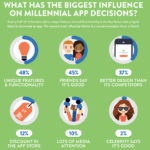 Infographic on the factors that influence millennials the most to download apps. Source: Mindsea
As for the type of apps, Generation Y uses both social networks and dating apps to interact.  They are also the first to use any new app that comes out (Snapchat, Wazypark, Netflix, games) and their mobile purchases tend to be quick, for immediate consumption.
With their smartphone in hand
Generation X users, the parents of millennials, also use social apps. In fact, a study by Nielsen, a company that studies multimedia consumption habits in more than 100 countries around the world, says that Generation X is more addicted to social networks than Generation Y.
"42% of people who use Facebook while watching television are 35 to 49 year olds, while just 40% were millennials."  The data also show that adults are connected to social networks 40 minutes longer than millennials. Specifically, 35- to 49-year-old U.S. citizens spend an average of 6 hours and 58 minutes on social networks per week, while the 18- to 34-year-old group spends an average of 6 hours and 19 minutes. All signs seem to indicate that Generation X spends more time using their smartphones, and millennials spend more time using apps.
However, Generation X leads when it comes to platforms for shopping and payment services, those that let users watch TV and movies on their smartphones, and any app for travel and getaways.
Age matters
People born during the notable increase in birth-rate after World War II, who are currently between 55 and 70 years old, have also caught the apps fever. Even though they did not grow up with today's technological tools such the Internet, social networks and smartphones, they ended up adapting to them. However, due to their age, the so-called baby boomers follow a different pattern when it comes to their downloads.
Age matters when it comes to downloading apps. This is one of the messages of the book "The Everything Guide to Mobile Apps", published in 2013, in which a survey conducted by Mitchell Research found that more than 75% of baby boomers downloaded at least one health app for their smartphones, and nearly half downloaded six or more.
"Nearly half (48%) are willing to download an app to monitor heart diseases, diabetes or other chronic diseases and 47% would also download an app to monitor weight and exercise," maintains Suzie Mitchell, CEO of Mitchell Research in one of the articles on the National Center for Telehealth and Technology's blog.
But everything does not revolve around health. Baby boomers also like apps that are easy to use for shopping and travel, and Facebook is their favorite social network as it lets them keep in touch with old friends.