Little by little, the cloud is invading every company service. Nowadays, you will find cloud services in practically every area, and you should think about using them yourself to improve your own services. These are the seven most widely used ones.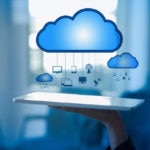 1. CRM (Customer Relationship Manager)
This is a business management program designed to improve customer relations, manage campaigns and process customer data. It also provides information about which products the customer has bought in the past, and that leads to enhanced customer experience of your website.
CRM lets you store vast quantities of information, which can be managed anywhere by any employee because all the data are stored in the cloud.
Its main features are:
- It lets you create a structured database for all your customers.
- It helps to enhance the customer care service.
- It improves marketing strategies by increasing customer loyalty through personalization tools.
- It can lead to increased sales because marketing campaigns can be organized through the customer database and users receive feedback directly.
2. ERP (Enterprise Resource Planning)
This is a modular system that lets you manage production, logistics, stock, distribution, billing and the company accounts.
It is primarily designed for managing and controlling business processes and procedures.
Unlike CRM, which is usually quite easy and fast to install, ERP implementation is relatively complex since it encompasses numerous business areas. This complicates the entire process and can make it "more traumatic".  The cost of this program is higher, although it depends on the number of licenses required.
In fact, ERP works best in medium-sized or large companies, because a smaller company will not be able to take advantage of its entire potential and many of the modules will never be used.
3. Software development (platform as a service)
The cloud optimizes work processes and resources because it reduces personal workloads, particularly as regards technical tasks, and provides a greater concentration of business management, therefore cutting down on the effort and resources required to administer ICT systems.
The cloud service provider is responsible for updating and improving systems, allowing the company to benefit from the latest technology without having to invest efforts in developing software.
One of the leading providers in this field is Pivotal Web Services.
4. Web analytics in software as a service
Cloud computing provides infinite data processing power for a very low cost. Nowadays, this tool in the cloud is an essential service for many companies because users can evaluate and analyze the data obtained from the Internet in order to optimize the use of a website or online service. One of the leading providers in this area is Google Analytics.
5. Infrastructure as a service
Companies save on infrastructure and just pay for what they use. One of the best examples is AWS, which rents IT power by the hour and stores data by gigabyte. S3 and EC2 are the most widely used services.
S3 (Simple Storage Service) is a remote service where developers can store and control unlimited information.
With EC2 (Elastic Compute Cloud), you can create virtual computers very easily and establish the structure of your service in the cloud, without using any physical services.
6. Big data: data processing in the cloud
Cloud services related to big data allow companies to extract knowledge from the data processed and use it to improve their value proposition to customersas well as their internal processes.
7. Desktop as a Service
This refers to employees accessing their computer remotely. Hosted by a cloud service provider, this system not only simplifies the configuration and maintenance of computers but improves data access security.