Turning speech into text can be a simple and efficient solution for less proficient typists or for people in a hurry. For this purpose, there are currenlty quite a few tools and apps that allow users to dictate what they want to write and quickly turn it into text.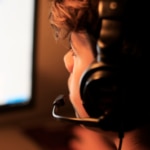 The use of keyboards is declining on a daily basis. The rising popularity of voice note functionalities –such as the one included in Whatsapp– are turning typing into a less essential skill.
In fact, 20% of Google search queries are now voice queries and, according to comsCore, they could account for as much as 50 % by 2020. And that's not even taking into account the importance of voice assistants such as Siri, Amazon Echo or Cortana.
Which power voice-activated devices, capable of accessing contents or running searches based on voice commands issued by users. But, regarding text, so far it's still best to stick to apps capable of getting the job done with longer and more elaborate texts, turning spoken words into letters. A transformation that, also, is carried out automatically.
One of the most compelling dictation tools, compatible with several languages, including Spanish. It is available as Google Chrome extension and can also be downloaded as an app for Android mobiles. This tool is capable of turning spoken texts into a written text that can then be saved, emailed, exported to Google Drive or printed.
A handy tool that has been very well received thanks to its symbol and sign typing options. It can be used directly from its dedicated webpage or, just as with the previous tool, as a Google Chrome extension, which provides direct access to its functionalities while browsing. Audio transcripts are saved into a .txt file, from which the text can be copied/pasted anywhere.
- Google Docs
Google's popular 'online' word processor boasts a speech-to-text option. Enabling this option is easy: Just go to the 'Tools' menu and click on 'Voice Typing'. To start dictating, click on microphone icon that will be displayed. Last, but not least, accessing this service requires having a Google account linked to an email address.
Speechlogger is available as both web and android app, and boasts a comprehensive range of options, including the two that, according to its creators, set it apart from other similar tools: Auto-punctuation and instant translation of trasncribed texts into different languages; in other words, this tool can turn a browser into a real time translator and interpreter.
Another easy-to-use tool, which lacks text export options. However, transcribed texts can be pasted on the notepad, printed, emailed, translated, and even posted on Twitter.
An online tool that allows users to transcribe audio files (mp3, .mpeg, .wav, .flac, or .opus only) into text. The service is powered by IBM's Watson cognitive system.