Only two months ago, it was just an experiment. Twitter decided to double the number of characters per message for certain selected accounts. The goal was to find out whether the traditional 140-character limit was an obstacle to the best use of the application.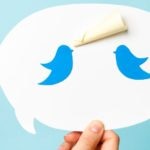 Following six weeks of testing, the social network announced the expansion to all its users. The limit is raised from 140 to 280 characters in all languages except Japanese, Chinese and Korean. Twitter has not provided data about how many users took part in the experiment, but they have said why they made the change: "(Having) more space makes it easier for people to fit thoughts in a Tweet, so they could say what they want to say, and send Tweets faster than before." Twitter Product Manager Aliza Rosen said, in a post announcing the change.
Twitter hopes the measure will make its users always active, not only writing, but also sharing. "In addition to more Tweeting, people who had more room to Tweet received more engagement (Likes, Retweets, @mentions), got more followers, and spent more time on Twitter. People in the experiment told us that a higher character limit made them feel more satisfied with how they expressed themselves on Twitter, their ability to find good content, and Twitter overall," Rosen said.
We're expanding the character limit! We want it to be easier and faster for everyone to express themselves.

More characters. More expression. More of what's happening.https://t.co/wBpYdy1K40

— Twitter (@Twitter) 7 de noviembre de 2017
Data on the use of 280 characters
Rosen went into more detail about the experiment. She stressed that during the first days, many people used the option of 280 characters "because it was new and novel." But she also made clear that soon after, the use of the social network began to return to normal. This fact has led Twitter to affirm that most of the time, its users have not passed the 140 character original limit, so that the essential "brevity of Tweeter," was maintained.
The announcement also said that 9% of the tweets in English and 5.3% of the tweets in Spanish reached the character limit. In the test carried out in September, these percentages fell to 1% and 0.8%, respectively. Twitter understands that from now on, people will devote less time to editing their tweets to fit the limit, as they did previously. In the company´s opinion, this shows that having more space makes it "simpler" for people to compress their thoughts.
Twitter has also responded to the most frequent criticism it has received regarding this measure: that Twitter "timelines" might fill up with 280-character tweets. The company said 5% of the tweets sent contained more than 140 characters and only 2%, more than 190 characters. As a result, the reading of tweets on the main screen "should not substantially change," especially when comparing the new character limit to the space taken up by messages that contain polls, photos or GIFs.
Last, but not least important, Twitter has said it expects the change will produce a "novelty effect" which will cause users who didn´t previously have this capacity to use it a great deal during the first few days. But the company insists that "soon after," their Twitter use will return to normal.