International markets demonstrate confidence in Garanti Bank with $1.3 billion syndicated loan
Under a borrowing program framework, Garanti Bank has received in excess of $1.3 billion in financing from international markets. The funding, as stipulated by the program framework, will be provided under two separate financing contracts and over four different tranches with 367-day, 2-year-and-one-day, and 7-year term loans.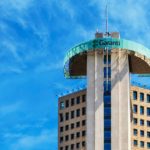 This financing for Garanti once again confirms international market confidence in Turkey's economy and its banking sector, as well as guaranteeing the continuity of Garanti's long-term investments.
Garanti Bank CEO Fuat Erbil provided information about the renewed syndicated loan saying, "These two transactions, secured thanks to our experienced team and a strong and extensive industry network, represent the largest loans – and with the longest terms – granted in the last quarter of 2018. Thus, by strengthening our leading position in the sector, we have showcased strong international confidence in both our country and bank."
Erbil said that this contrasts with what has been a difficult second half of the year for developing countries. "By closing the year with a successfully obtained syndicated loan, alternative funding sources attained at an attractive price and reasonable terms; Garanti has once again proven its ability to secure sustainable funding from overseas markets. We take pride in our contribution to the economy of the country and we will continue to support the domestic market with the funding we obtained."