Latin America has to foster the right conditions to strengthen its digital ecosystem. However, it faces an obstacle: the digital gap that separates it from other regions in the world. How can this gap be reduced? At a forum of "multi-Latina" companies in Santander, Eva Piera, the Head of Institutional Relations at BBVA stressed that regulation is the key.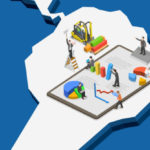 The digital gap in Latin America
Eva Piera explained that Latin American countries – with the exception of Chile – fall into the medium to low group of BBVA Research's Digitization Index, in terms of their degree of digital progress. She noted the progress made in infrastructure and digital content, but added that: "A lot of work still needs to be done to make it more affordable for people and companies, through lower prices, modernization, standardization of regulation, and promotion of the use of technologies."
What can be done to reduce this gap? Eva Piera called for greater convergence in the digital regulation framework among Latin American countries. She also called attention to the need to strike a balance between financial stability and the development of new business models. She believes that a competitive environment is needed, in which similar products receive the same regulatory treatment and where new digital value propositions prosper, while consumer protection is maintained.
Piera also defended the use of testing grounds for innovation, such as sandboxes in banking, in order to experiment with the new technologies and business models together with the regulators while ensuring consumer protection and control over the new business models at all times.
Eva Piera emphasized the importance of a facilitating public sector, a convergent regulatory context and a Single Digital Market in Latin America, along with the greater investment in infrastructure, the improvement of workers' digital capabilities and the digitization of small and medium sized enterprises (SMEs).
Eva Piera participated in the panel "The digital world at the service of startups and SMEs", together with Jorge Barrero, Director General of COTEC; Rafael Fernández de Alarcón, Global Director of International Relations at Telefónica; Íñigo de Palacio, Global Director of Institutional Relations at Indra; José María Robles, Director of Institutional Relations at Santander; and Max Trejo, Secretary General of the Ibero-American Youth Organization. It was moderated by Ignacio Corlazzoli, Representative in Europe of the Inter-American Development Bank.