There is no turning back. Technology is here to stay and whoever is not able to adapt to it will not only lose information opportunities, but will be left out of the market. The mass adoption of smartphones, tablets and other digital platforms has put Chile at the top of the connectivity rankings in the region and has changed the way in which people interact with each other and with companies. BBVA is one of the pioneers in Chile's digitization process.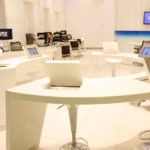 Besides winning back-to-back Copa America titles, there is another area in which Chile's leadership is yet to be contested: According to the data published by U.S. think-tank Pew Researh, 78% of Chilean nationals polled said they were internet users, a figure significantly above the region's 64% average. Asked about mobile phone usage, 91% of respondents said they owned one of such devices. This explains why 77.8% of online connections are made through cell phones, 92.8% of them using smartphones.
The truth is that the use of technology is progressively changing the ways humans behave, the way in which we engage with each other and the way in which we access goods and services from companies.
In 2015 Google Chile presented a research paper titled 'Micromomentos (Micromoments)', defined as those "instants in which people look for answers, solutions or just something new that helps them make decisions in their daily lives," which explains in broad terms how the use of internet has changed local customs in Chile. Besides confirming that internet users in the country are one of the most advanced in the region, according to the way in which they use it, the paper also revealed that they were using the internet to look for information about specific topics, with 48% of such actions being conducted using a smartphone.
"People no longer go online, they are always online
The report also concluded that 84% of those surveyed, used the smartphone for day-today tasks, while 97% searched for tutorial videos to do something. 70% of respondents used internet for their trips, that's 8% higher than the region's average; while 75% used chose a product from a store after using their phones to do some research on the product. "People no longer go online, they are always online," was Google's conclusion.
 The age of e-commerce
In accordance with the World Economic Forum's Global Information Technology Report 2015, Chile is the Latin American country that best leverages information and communication technologies to drive social and economic development. This fact is reflected on how the so-called digital economy has boosted growth, productivity and employment across the whole activity spectrum, which has translated into over $40 billion in revenues for the country's economy in 2015, according to a report by the Chamber of Commerce of Santiago (CCS).  These results are possible thanks to Chile's high connectivity rate, its financial depth and the level of digitization of its methods of payment, which have turned the country into an optimal platform to do business online.
The growth in e-commerce owes greatly to technological progress and the way in which it has helped boost confidence among users when shopping and disclosing their financial and personal details to payment companies.
This is clearly evident, for example, in the impact of cyber mondays, which were originally criticized because of the access and connectivity problems that riddled merchant platforms, and which, today and once all shortcomings have been overcome, are events that consumers eagerly await. The Cyber Monday in 2011 closed with total sales of $15 million. This year, sales reached $111 million.
BBVA, Chile's digitization pioneer
In the current scenario, where people have become hyperconnected customers, technology needs to the ally that makes it easier to shop, pay, complete procedures, and, ultimately, live life. For this reason, experts in digital banking consider technology's contribution a "service of public interest."
In the financial system, the number of customers that access services through digital channels grows every day
Interaction between services and mobile banking customers should therefore complement each other almost perfectly. Every day, more and more senior executives from large corporations and analysts are convinced that banks that are not capable of reinventing themselves and adapting to the new digital culture will be left out of the market.
In the financial system, the number of customers that access services through digital channels - and who expect to interact with their banks regardless of the device, place and time they choose to do so - grows every day.
One of the banks that is leading this change in Chile is BBVA, thanks to its innovative and 100% digital product and service portfolio. It was precisely last year that the bank rolled out Wallet, the first application that has allowed Chileans (and BBVA customers in this case) to use their smartphones to manage all the transactions they carry out with their credit and debit cards, as well as to pay and return their purchases.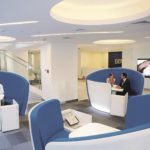 Territoria branch, BBVA Chile. - BBVA
The impact of this transformation has already started to show in BBVA's sales digital channel sales figures in Chile. In 2015, sales processed through these channels increased by a factor of 4.5. In 2016, roughly 30% of consumer products are already being sold through digital channels, 75% in the case of time deposits.
BBVA Chile's digital management has earned the company recognition from a number of relevant publications and organisms, including being included in the 50 Most Innovative Companies in the Country ranking published by the Adolfo Ibáñez University and Best Place to Innovate; and the top spot in the financial services and online banking category in the e-Commerce Awards.
Clearly, today, the key is to go digital.