Head down, fingers tapping, mind far away.
In the age of the smartphone, this is the scene played out everywhere you look. And you won't stop seeing it anytime soon, as according to a November 2016 Pew Research Center survey, roughly three-quarters of Americans now own the multi-purpose digital device. All of which is why it's curious that there continues to be misconceptions about using the computer in your pocket for banking.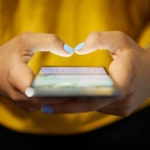 We asked our own mobile banking subject matter expert BBVA Compass Head of Mobile and Online Channels Alex Carriles to clear up some of what he saw as the most common misconceptions. Here's what he had to say:
Myth No. 1 - Mobile banking apps are too basic.
"Ten years ago, it's true that many mobile banking apps could only do one thing, like check your balance. Now, you can do nearly everything with your mobile app!"
According to Carriles, it's easier than ever to manage the bulk of your financial life through your phone. He points specifically to capabilities like bill pay, mobile deposit, and mobile transfers as those that make managing finances easier than ever. Most mobile banking apps will even let you set alert notifications so you can monitor your money, detecting anything unusual in your account.
BBVA Compass mobile banking, which has won the Javelin Strategy & Research's Mobile Banker Leader in Functionality award for three years running, takes it a step further, with unique capabilities like credit and debit card controls, where you can activate new cards, turn your cards on or off, or report them lost or stolen if needed.
Myth No. 2 - Mobile banking is insecure because your phone can be stolen.
Not true, says Carriles. The best of the best mobile banking apps don't actually store banking information on the phone itself. Additionally, a few bank apps, including BBVA Compass', have a feature that allows you to use another phone to log in to your mobile banking profile  and disable your quick access features from being used on the lost phone.
Myth No. 3 - A bank can access all of the information on a mobile phone.
There are times when a mobile banking app will display a pop-up asking for permission to access certain information, like your contacts. Never fear, says Carriles. Each app plays in its own space and doesn't talk to the phones other apps, or functionalities, unless given permission.
For instance, the BBVA Compass mobile banking app asks users for permission in a few areas, including:
Contacts: Perhaps you want to use Popmoney® to send a payment to friends or family. With permission to access your contacts, the BBVA Compass mobile banking app will pull the email address or mobile phone number directly from your list, so you don't have to input it yourself.
Phone Dialer: Have a question for the BBVA Compass call center? Give us access to dial for you, and your call receives priority status.
Camera: We're not trying to see pics of your beach vacation. In fact, we can't even access your photo roll. Instead, we use your camera to take pictures of the checks you want to deposit using the mobile app.
Location: Need a branch or an ATM? Give us access to your location, and we'll make it easier to find one close to you.
Notifications: Remember those alerts that help you monitor your account? We can't send them unless you give us access to do so.
Myth No. 4 - I might do something wrong and really mess up my account.
Mobile banking apps are built with multiple fail safes which make it hard to do anything wrong, said Carriles. In most cases, you'll be asked to confirm the transactions you want to make, and you can correct what you may have "fat fingered" on the phone's small keyboard.  And in the case of transactions involving money movements, you may also be asked to enter a security code to validate the operation.
For more on BBVA Compass Mobile Banking, click here. Oh, and remember to try to keep your head up when walking and texting.