Getting paid to shop may sound like a dream, but Simple Cash Back rewards makes it a reality. Available through the BBVA Compass Mobile Banking App, BBVA Wallet or Online Banking, the feature allows customers with a consumer BBVA Compass debit or credit card to earn cash back on purchases.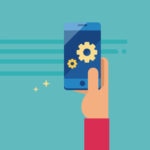 Customers simply activate the offers that most interest them, in this case through the Mobile Banking app, then shop for a qualifying purchase at the merchant they selected, and the cash back earned will be automatically applied to their participating account the next month.
To use Simple Cash Back in the BBVA Compass Mobile Banking App, customers sign in to Mobile Banking, select Simple Cash Back from the main menu, review the accounts eligible for cash back rewards in the Hub, select the account and then tap the offers to activate them.
Learn more about the award-winning BBVA Compass Mobile Banking App by clicking on the video below, and for more on the BBVA Compass Mobile Banking App, click here.