Long gone are the days when banks would send canceled checks from the previous month's transactions so  customers could balance their checkbooks and manage their accounts. Today, the proliferation of digital money movement means transferring of money in and out of bank accounts has become real-time and a daily process. The BBVA Compass Mobile Banking App makes daily account management an easier task with customizable real-time alert notifications.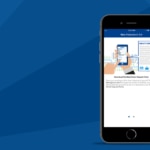 When turned on via the bank's mobile app, these notifications give customers specific information on account activity without having to sign in to online or mobile banking. Customers can choose what they wish to see in each account, from account balances that go above or under a prescribed amount to notification of single withdrawals that is equal or larger than a chosen amount, and many more.
To set up alert notification, simply log in to the BBVA Compass Mobile Banking App, click alerts on the main menu, select the account you want to set alerts on, then turn on the specific alerts you need. With advanced functionalities, the BBVA Compass Mobile Banking App gives you the ability to bank when, where and however you want.
Learn more about the award-winning BBVA Compass Mobile Banking App by clicking on the video below, and for more on the BBVA Compass Mobile Banking App, click here.