The BBVA Compass Mobile Banking App has made it easier than ever to take an active role in keeping your money safe and secure, with features that allow you to decide on alerts and enabling or disabling your card.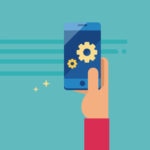 BBVA Compass Mobile Banking gives customers the ability to set up account alerts which give specific information on account activity, without signing in to online or mobile banking. Customers sign up for the type of alerts they want to see by clicking on the main menu, selecting the account they want to have alerts set for and then turning on the specific alerts they want.
Cards can also be disabled or reported as lost or stolen, simply by going to accounts and selecting the card to disable and/or report lost or stolen. The card can be instantly disabled and a replacement sent automatically.
Learn more about the award-winning BBVA Compass Mobile Banking App by clicking on the video below, and for more on the BBVA Compass Mobile Banking App, click here.