BBVA Mexico confirms its confidence in Mexican soccer by renewing its sponsorship of the Liga BBVA MX for two more years
BBVA Mexico and Liga BBVA MX today announced the signing of a two-year sponsorship agreement for the BBVA MX, Expansión BBVA MX and BBVA MX Femenil leagues and junior tournaments. The goal is to continue strengthening Mexican soccer and its players and teams by promoting the values of this sport and conveying them to the fans: effort, teamwork, perseverance, self-improvement and fair play.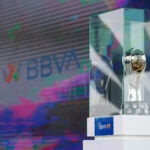 The bank thus underlines its confidence in Mexico and in Mexican soccer by investing in the development of one of the biggest and highest-profile leagues in the world. The two institutions have agreed to support a social responsibility agenda in which equality, inclusion and education are the main vectors.
This will create a synergy to create tools for inclusion and diversity, such as manuals, guides and protocols for action in favor of best practices in working groups. In the area of education, actions and courses will be undertaken to promote growth and help build a better future in the areas of gender equality, financial literacy and the environment.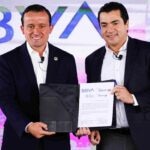 Mikel Arriola Peñalosa, president of Liga BBVA MX and Liga BBVA MX Femenil, and Eduardo Osuna Osuna, vice-president and CEO of BBVA Mexico.
On signing of the sponsorship renewal, Eduardo Osuna Osuna, vice-president and CEO of BBVA Mexico, stressed that the relationship between the bank and LIGA MX goes beyond an agreement, because, from the outset, the parties have worked closely together on activities to strengthen and consolidate a social agenda that transcends the playing fields.
Osuna added, "In 2022, what is now BBVA Mexico will celebrate 90 years since its founding, and the announcement we are making today is a sign that we will continue to promote actions that reflect our confidence in the great future of our nation. This sponsorship reaffirms our commitment to Mexico, where we continue to invest, support our customers and work to build a better country."
For his part, Mikel Arriola, executive president of LIGA BBVA MX, highlighted the importance of renewing the strategic alliance for the growth of the league: "Having BBVA as an ally will enable us to continue cementing our player development projects in all categories, including LIGA BBVA MX Femenil and LIGA BBVA Expansión MX, where we are strengthening and promoting young talent and opening opportunities for Mexican players."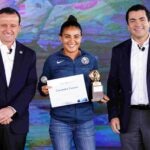 Mikel Arriola, executive president of the Liga BBVA MX, and Eduardo Osuna, vice president and general manager of BBVA Mexico recognized Casandra Cuevas as one of the flagship players of the Liga BBVA MX Femenil.
In addition, the president of LIGA BBVA MX emphasized that the two-year renewal with BBVA Mexico will provide a strong social angle to the work plan: "The extension of the agreement will provide us with the opportunity to integrate and strengthen a joint agenda of social responsibility. We will give back to all our fans, who are amazing across different sectors, for the trust they place in soccer every day.
This alliance will take a far more social approach, addressing issues of inclusion for people with disabilities, providing financial education and literacy, and placing special emphasis on equal opportunities for growth in terms of gender. BBVA's renewal of this partnership will go far beyond the soccer fields. This fills us with pride, because we are not only looking out for soccer, but for our country."