Onur Genç: "Crises like this demonstrate the importance of strategic foresight, the human team and investing in technology"
In an interview published by the financial newspaper Expansión, BBVA's CEO explains what the coronavirus crisis has been like for him, and how the bank has adapted its operations to continue providing customers the same service. "It is very rewarding to see how our teams have adjusted to the challenges posed by this scenario," he said. Onur Genç thinks the crisis is going to have a major impact on the economy and businesses, and that now is the time  "when we - the banks – need to stand by our customers more than ever before, and be part of the solution to this crisis."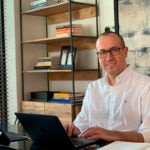 "Challenging and very constructive." This is how Onur Genç describes his teleworking experience over the past couple of months. BBVA's CEO works from home as an act of responsibility and coherence, as do more than 94 percent of the bank's employees in central services and around 70 percent of employees working at the global network of branches. "One of the lessons that this pandemic is teaching us is that many of our tasks can be done remotely - things that wouldn't even have crossed our minds two months ago," he explains. For BBVA, this way of working is not new, but given the current situation, the bank has actively promoted telework, extending the measure to over 86,000 people across the Group.
Genç took the opportunity to praise the efforts of those required to continue working at the branches to ensure essential services, and sent them a message of "sincere gratitude for remaining on the front lines, helping our customers."
Work-life balance at home
Although his routine and work schedules have not changed significantly, his daily agenda is currently focused primarily on managing the priorities in this context: people's health and business continuity. BBVA has already started to implement a plan to gradually return to the bank's offices. This plan continues to prioritize the health and safety of both employees and customers. In addition, the bank remains focused on helping to save lives through the purchase of medical equipment. "One of the things I'm most proud of is the generosity and kindness that our employees have shown, how they've stepped up and done their part to help the most vulnerable," he says.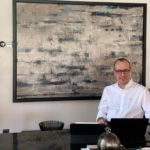 Onur Genç, BBVA's CEO - BBVA
The executive also spoke of the challenge of balancing his work and family life from home:"That's something that I try to achieve myself and convey this to my teams because it is an element that I believe is key to the well-being of employees. "I also try to take some time to rest and do the things I enjoy. I am also constantly in touch with my family and friends in Turkey, even more so than before," he admits. Exercising at home, reading, listening to music or watching television shows like 'The Big Bang Theory' and 'How I Met Your Mother' take up some of his spare time. Although, without a doubt, he is most grateful for the opportunity to spend more time with his children.
In addition, he underlines that this situation "has taught us that we are social beings who need to interact with other people." That's why he spends a few minutes just chatting with his team prior to any meeting to find out how everyone is doing: "Visual contact is important under these circumstances, and being able to see each other brings us closer."
The new reality
The impact of COVID-19 on the economy and companies is probably going to be substantial, and it will surely lead to lasting changes in the way we work and in customers' needs and habits. "This will cause companies to accelerate their digitization processes," he explains.
Genç believes that banks need to take a step forward and position themselves as part of the solution. "We are already seeing the economic cost and the suffering that the loss of income is bringing to many families and businesses. This is the reason we are focusing on helping our customers, especially the most vulnerable," he stresses. Regarding BBVA's strong position, he notes that it is the result of the bank's efforts in three key areas: strategic foresight, the human team and investing in technology. All of this by establishing a set of criteria to ensure a better relationship with the environment. "Sustainability is even more important when faced with the challenge of a quick recovery, which must be based on a more sustainable and inclusive development model," he concludes.