"We are in a climate emergency. It is currently the most pressing challenge humanity must face, and we have to be fast in taking action," declared BBVA CEO Onur Genç, who recognized the important role sustainable finance plays in achieving the goals of the Paris Agreement. In a panel on the financial sector and sustainability at the Climate Change Conference in Madrid, BBVA's CEO underscored the financial institution's role in accompanying clients in this crucial environmental transition.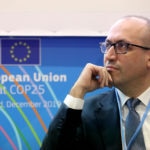 "We are helping our clients become more sustainable, greener, and putting a lot of emphasis on making sure this transition happens. We cannot miss this opportunity," said Onur Genç, who stressed the importance of the European Commission's work to create a taxonomy that defines the scope of what is considered green or sustainable.
"One of the pillars that we have identified for ourselves in the coming years focuses on sustainability. And we apply it in two ways. First, by accompanying our clients and stakeholders in this journey to sustainability. And second, by managing the risks - both physical and transitional -  in such a way that we incorporate them into our decision-making processes," explained BBVA's CEO.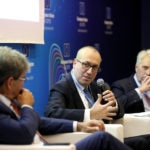 BBVA CEO Onur Genç in the center of the picture with Santander CEO José Antonio Álvarez and Triodos Bank CEO Peter Blom.
BBVA's CEO pointed to the bank's Pledge 2025, which entails mobilizing €100 billion in sustainable finance by 2025. An initiative that already reached €22 billion between January 2018 and June 2019.
Also participating in the meeting were European Commission Vice President Valdis Dombrovskis, Santander CEO José Antonio Álvarez, Triodos Bank CEO Peter Blom and HSBC Germany CEO Carola von Schmettow.
During the event, European Banking Federation CEO Wim Mijs presented the report "Encouraging and rewarding sustainability", which analyzes how public - private partnerships could contribute to the development of sustainable finance initiatives, and the measures that should be adopted to help decarbonize the European economy.