Paykey wins the BBVA Open Talent's special Wired Money award
Paykey, an groundbreaking system that allows making safe payments through the main social networks using a special keypad that has to be downloaded in the smartphone, is the winner of the Special Wired Money Award, a prize awarded by BBVA Open Talent, BBVA's fintech entrepreneurship support program.
"I am very happy with the award. It is always great to be recognized by your potential customers and by your fintech peers." "This is an excellent way of connecting with new markets, such as Mexico, and give the extra boost our agenda needs to reach a broader customer base and get in touch with banks" said D Darío Mutabdzija, president and head of business development de PayKey. "It is a great opportunity," he concluded.
Paykey, was selected among a the roster of 11 startups that presented their projects from the Wired Money startup stage, dedicated to finding the brightest and best entrepreneurs. Wired Money is an event organized by the English edition of the prestigious science and technology magazine Wired. Parkey's founders will join the six winners of the BBVA Open Talent contest in the two-week BBVA Immersion and Interaction program. BBVA Open Talent is still open for submissions until June 27th.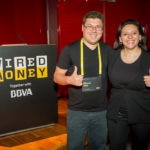 Marisol Menéndez,  responsible of Innovación Abierta BBVA and Darío Mutabdzija, president and head of business development of PayKey
Regarding the projects presented in Wired Money, the jury took into special consideration their disruptive capacity, the size of the market they cater to, the team behind the company and the potential interest of their proposal for BBVA's business.
"At BBVA we know that we need startups to transform the financial industry. The twelve fintechs that presented their projects at Wired Money bear witness to the positive moment that the innovation ecosystem is at, with ideas and proposals that go beyond technology and truly aim to disrupt the financial service industry," stressed Marisol Menéndez, Head of Open Innovation at BBVA when she handed the BBVA Open Talent's Special Wired Money Award.
Paykey  is still taking part in the BBVA Open Talent program, which will announce the finalists of its three regional editions in Europe, Latin America and the United States and Rest of the World in August.
Moderlend, BBVA Open Talent winner in 2015 with its system to allow international students and immigrants get loans in the US, won the "Stage Award" and was invited to present its project in Wired Money's main stage.