François Pienaar: "We are different, but together we do extraordinary things"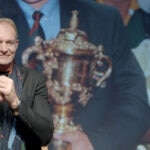 On June 24, 1995, Johannesburg's Ellis Park stadium witnessed "one of the most glorious moments in politics and sport of the 20th century". South African President Nelson Mandela, elected a year earlier in his country's first democratic elections, donned the jersey of the captain of the national rugby team, Francois Pienaar, and walked onto the pitch to greet each member of the team, which was playing in the World Cup final that day. The gesture could have cost Madiba dearly - rugby was the sport of the Afrikaners. 'Invictus', a film based on John Carlin's book "The Human Factor", tells the story.
To this day, Francois Pienaar remains the second icon of his country after Mandela.