Rosilyn Houston: A powerful executive focused on a first-class workforce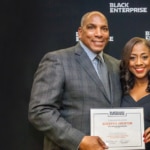 Houston and other top-ranked executives, who all hold leadership roles for companies with a significant U.S. presence, were identified by the publication's editorial team for impacting business growth and positioning their organizations as market leaders. In her lead employee-focused role, Houston has been responsible for helping the bank heighten its industry position and U.S. presence by ensuring that opportunities are created for all of its employees through leadership programs, inclusive policies, and engagement and recruitment efforts.
For Houston, her Black Enterprise recognition represents BBVA Compass' mission to build an all-encompassing workforce and pipeline of leaders.
I'm also honored to have grown with an organization that strives to cultivate and mold powerful leaders.
"I'm honored to be among a diverse group of powerful executives who are demonstrating leadership in Corporate America," said Houston. "I'm also honored to have grown with an organization that strives to cultivate and mold powerful leaders."
Houston is a testament to BBVA Compass' commitment to professional growth. After 25 years of showcasing her talent in the industry and taking on leadership roles in retail and commercial banking, she earned her title as chief talent and culture executive, joining BBVA Compass' Management Committee. Now, she leads internal efforts to tap into the diverse pool of talent residing in the bank.
In 2017, Houston's team initiated the bank's Top Talent Program, a program dedicated to retaining talent in the workplace and providing professional development opportunities for top performers. That same year, Houston sponsored and helped launch Women in Leadership, the bank's leadership program and business resource group aimed at fostering a network of talented women in the organization. The program — which also includes men — focuses on engaging and positioning women as high-profile leaders inside and outside the bank by creating opportunities for mentorship, sponsorship, networking, volunteering, and leading projects linked to the bank's top strategic priorities.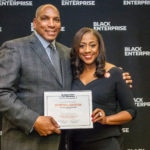 BBVA Compass Chief Talent & Culture Executive Rosilyn Houston receives recognition as a "most powerful executive" from Black Enterprise CEO Earl Graves. Represented on BE's "300 Most Powerful Executives" list are 122 high-ranking female executives, a major milestone compared to 1988 when no women appeared in the magazine's first recognition publication featuring top black executives.
"At BBVA Compass, we're supporting and growing a diverse network of talented leaders who I one day hope to also see represented on national top executives lists similar to Black Enterprise's," said Houston. "We're doing this not only through our leadership programs, but through our workplace inclusion endeavors."
Houston has been active in recognizing the importance of diversity and inclusion and orchestrating the bank's five-year progression strategy of educating the workforce on unconscious bias. Over the course of last year, she also took charge of implementing the rollout of more inclusive benefit plans and acknowledging workplace diversity by reworking HR policies and programs to include more inclusive language.
BBVA Compass has achieved major milestones related to diversity and inclusion. In the past year, the bank earned a perfect score on the Human Rights Campaign's 2018 Corporate Equality Index and landed on DiversityInc's 2017 Top 50 Companies for Diversity list.
"There's value in promoting diversity and inclusion in the workplace. We've been able to broaden our talent pool, which allows us to deliver more innovative and well-rounded solutions and products that are a better representation of the clients, businesses and communities that we serve," said Houston.
Houston has also been able to further drive innovation at the bank though recruitment initiatives. Last year, Houston's team launched LEAP Tech, a career immersion and recruitment program where talent scouts will search the country for the next generation of digital innovators/college grads and provide them with the opportunity to contribute, learn and possibly become a part of BBVA Compass' digital ecosystem and transformation.
To further position the bank as an innovation hub, last year Houston's Talent and Culture team assembled cross-functional teams from across the bank, ranging from technology to business service lines, to pilot the effectiveness and efficiency of agile working. Within three months, the teams completed three HR-related projects, becoming a prototype for the organization's ongoing adoption of agile workstyles.
Houston is also bolstering engagement at BBVA Compass to obtain and retain a competitive organization. She leads a team that help fosters a first-class workforce by engaging employees with the recently launched values of the organization. In addition, Houston has been organizing efforts to ensure employees' voices are heard. Transparency is key for Houston and her team who have been focused on creating opportunities for employees of all levels from across the bank's footprint to openly connect on internal social channels and share their thoughts on various workplace topics. For example, Dear Rosilyn, a human resource Q&A series, is one of several communication initiatives.
Houston's efforts have helped reduce the bank's turnover rate in the past year and increase its employee recommendation score by 22 points year-over-year. Her involvement in advancing the bank's benefits and policies played a contributing role in employee satisfaction, which included extending maternity leave and stabilizing health insurance rates.
My powerful executive recognition from Black Enterprise reflects my mission to foster and support a powerful organization of leaders.
"At the end of the day, my role and efforts exist on the behalf of our employees," said Houston. "My powerful executive recognition from Black Enterprise reflects my mission to foster and support a powerful organization of leaders."
On top of her Black Enterprise recognitions, over the course of 2016 and 2017, Houston was named twice as one of The 25 Women to Watch by American Banker and has made an appearance in Al.com's listing of Women Who Shape the State.
---
For more articles about BBVA Compass' employees and culture, click here.