Six exceptional women discuss how valuable an opportunity is, in a roundtable chaired by Queen Letizia
Artist Lita Cabellut, an Air Force commander, a player of the national rugby team, a gas fitter and businesswoman, a science degree undergraduate and a truck driver and entrepreneur served by BBVA Microfinance Foundation have shared how, from their own experiences, an opportunity can change people's lives. The Queen has chaired the roundtable, where the current Minister of Economy, Nadia Calviño, BBVA group executive chairman Carlos Torres Vila and BBVAMF CEO Javier M. Flores have also participated.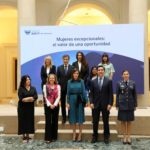 "These stories inspire us all to keep working for a more diverse and inclusive society," said BBVA's chairman at the start of the debate, and described the six panel members as "women we should all look up to and vivid examples of how valuable an opportunity can be." The panel addressed a number of topics, including education, financial inclusion, female entrepreneurship, and gender stereotypes in the workplace and sports.
The opportunity that changed their lives
For renowned artist Lita Cabellut, opportunity came through her adoptive parents: "They introduced me to culture. Thanks to them I discovered my passion for painting." For Guisela Martínez, from Peru, it was a microcredit that helped her underpin and grow her coal delivery and distribution business, in a country where only 35 percent of women have a bank account. "The BBVA Microfinance Foundation reached out to me when no other bank would. Not only does it lend me the money, but it also teaches me how to manage it," she said.
According to Carlos Torres Vila, "for BBVA, education is the greatest opportunity to improve people's lives. And in line with our purpose of bringing the age of opportunity to everyone, the BBVA Microfinance Foundation offers support to more than two million vulnerable people, of which 1.2 million are women."
Education, a pillar of progress and professional development
HM the Queen said that "education is a priority from elementary through secondary schooling, and the role of families and teachers, whose efforts should be recognized, is crucial in guaranteeing equal opportunities."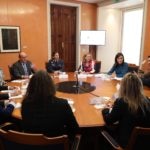 HM the Queen Letizia and BBVA Group executive chairman Carlos Torres Vila during the 'Exceptional women' debate - BBVA
Rosa Muñoz, a geology student from Granada, recalled how, in her case, her big break came thanks to the support she received from her grandmother - a woman who learned to write at the age of 65-, her parents and her teachers, who believed in her when she most needed it. Rosa, of gypsy descent, spoke about how proud she was for being the first member of her family to pursue a university degree and how, despite having to work to pay for her studies, she is certain that she will soon become a paleontologist, her dream. According to the Fundación Secretariado Gitano, only 1 percent of the gipsy population in Spain gets to attend university. "There still aren't that many gypsy female college students," she said.
Panel members agreed on the importance of education, even after achieving a professional career. Commander Gómez, who became the first female pilot of the Aspa Patrol (the Spanish Air Force's helicopter squad) and the first female commander of Escuadrón 402 (the unit responsible for providing transport to the Royal Family and the Spanish Government), is still studying. "I have a B.A. in English and am currently studying Geography and History, and also learning French. I'm a bookworm," said this pioneer, who is part of the 4.8 percent of female pilots in the Spanish Air Force. And she adds:  "What you need is a dream and the drive to attain it, with that you can achieve anything."
And that passion is exactly what Lourdes Alameda, a member of the Spanish women's rugby national team, has never lacked. She is also very well aware of what it takes to succeed in a world traditionally reserved for men. She started with rhythmic gymnastics at age three, but soon discovered other sports such as tennis or badminton before rugby captivated her. She combines her biology studies and her role in the Spain's national rugby side - a team that's won the European championship twice, and which last March, broke the attendance record for a women's rugby match during the final played in Madrid. It drew in a crowd of 9,000. She also plays for Sanse Scrums, San Sebastian de los Reyes' rugby team. "I try to teach boys and girls to fight for what they love. I decided to play rugby because it was a sport I knew very little about. It's still unusual to see boys getting involved in other sports such as rhythmic gymnastics; we need to change these prejudices," she said.
According to UN Women, seven out of ten children consider that boys are more encouraged to play sports than girls. Similarly, in trades such as plumbing and gas installers, women only make up 1 percent of the workforce, according to data from CONAIF (the Spanish National Confederation of Installers and Fluids Associations), which comprises 20,000 Spanish companies. "Despite being the first girl after four brothers, it was me who took over the family plumbing business when my father decided to retire. I learned everything from him. I have never felt discriminated against for being a woman, although the only women I have met in this trade are the wives of other installers. We need to raise awareness about what we are doing to drive interest," said Magdalena Verdú, a gas installation technician and business owner from Valencia.