Endeavor, the global entrepreneurship organization, convened four European banks at its event 'Leading Innovation in Financial Services' to seek synergies and formulas that promote innovation. Ainhoa Campo, global manager of Open Innovation at BBVA, pointed to the "robust growth" of fintech's ecosystem in southern Europe.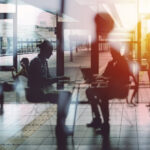 In Spain, there were only fifty emerging companies of this kind in 2013, while currently the number has risen to more than 450. This leap has also been linked to an increase in investment in the area, which has gone from €35 million to €300 million. During Endeavor's virtual day, Campo sighted these figures as proof of the great change that the fintech sector is undergoing in southern Europe, where it traditionally recorded a somewhat slower evolution compared to other EU nations. Today, this difference has been overcome, thanks to the "robust growth" experienced by the Mediterranean countries, explained Ainhoa Campo.
The event, 'Leading Innovation in Financial Services,' presented by global entrepreneurship organisation Endeavor, was attended by BBVA, representatives of the National Bank of Greece, Intesa Sanpaolo, and Grupo Sella. They were joined by guests from the fintech companies with which they have been cooperating.
"The pandemic has made digitization more necessary than ever; this has led our users to make use of the fintech universe as much as possible. For me, this is an upward path," emphasised the manager. She was accompanied by Spyros Arsenis, head of Business Innovation Development at the National Bank of Greece; Paola Papanicolaou, Innovation Leader for the Grupo Intesa Sanpaolo (Italy); and Andrew Vasko, head of Transformation at Grupo Sella (Italy).
Collaboration is essential to achieve an innovative banking system, and this "is something that has been done for years, at both the local and global levels," said Campo. She gave as an example the success of the Bizum platform, which facilitates immediate payment between users via their mobile phones no matter which bank they use.
"Sharing knowledge is crucial, and we are open to it. There are many things we can work on together," she summarized, before adding that one of the next things they could work on together is "identity."
"Sharing knowledge is crucial, and we are open to it. There are many things we can work on together."
Intesa Sanpaolo's Innovation Manager, Paola Papanicolaou, agreed with Campo and said "we are only at the beginning of the digital journey that the financial industry is going to engage in." "If we want to help our customers and change the business model, cooperation is the key, as well as putting legislative measures in place that support this change," she said.

Pilot with Sentimer
Collaboration between institutions plays a fundamental role, but so does the search for synergies with new players in the fintech industry. José Gómez, CEO of Sentimer Technologies, a firm focused on optimising conversion and increasing sales of companies through artificial intelligence, explained the pilot they are developing with BBVA.
Sentimer helps to understand the behaviour of the user accessing the website and thus offers them a personalised experience, helping them to move up the conversion funnel to complete the journey successfully.
In this way, with this platform it is possible to identify, for example, if a user is about to abandon the purchase of a product, and at that moment a 'chatbot' or virtual assistant can help this person to solve their problems so that they can carry out the conversion.
This provides a fundamental aspect: a better understanding of the user and the reasons that may lead to them abandoning a purchase or contracting process, which can become a competitive advantage. "Companies invest money in analytics, but 85% of the time the reason for abandonment remains unidentified," noted the CEO.
The startup, which was a finalist of BBVA Open Talent 2017 in the artificial intelligence category, is currently working with BBVA on a pilot project to implement the platform for several of its products. This collaboration, on which the two teams are working "as if they were one," has enabled Sentimer "to achieve a comprehensive approach to the bank's conversion funnel," and therefore learn from "all the experience and knowledge" of the company, explained Gómez.
Lessons learned in banking innovation
The event also welcomed George Stasinopoulos, New Business Ventures for J.P. Morgan's Commercial Banking Business, who shared some of the lessons he has learned about innovation in the banking sector.
He emphasised that innovation doesn't come "from a special place," but that "all employees have the potential to be innovators." This also extends to the business itself, in that it's not about modernising certain products, rather that "innovation is going to reach every corner of the company," although it will change shape according to the different areas of the business.
He also stressed that the banking sector has two tasks in hand. Firstly, analysing how they can improve their existing services, and secondly, asking what they can build that is really disruptive. To do this, he believes it is essential that they are part of the fintech ecosystem, in which there must always be a mutual exchange of knowledge and benefits with startups.
Lastly, he urged banking entities not to blindly follow the names of those new technologies that "sound interesting," but to focus on their customers: "We should always start by thinking about users' needs before taking any action."