Supporting women entrepreneurs, a necessary step toward sustainable development
In order for women like Yamile Salazar or Ceneris Espitia – two BBVA Microfinance Foundation (BBVAMF) entrepreneurs - to advance in Latin America they require three basic conditions: financial independence, self-esteem and a sense of belonging, or social integration, among other things.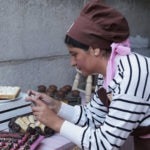 Therefore, in line with its purpose, the BBVA Microfinance Foundation has designed a strategy that addresses these needs in order to facilitate their sustainable development. "Women are true catalysts of progress in a country due to their significant contribution to the development of their families and communities," recalled BBVAMF CEO Javier M. Flores at the Women's Economic Forum Latin America 2020 (WEF), which virtually united around 50,000 people from 44 countries.
According to data on the social impact of BBVAMF, in 47 percent of the cases, they are the head of household. "Over the years, we have observed that many women become entrepreneurs out of necessity and that not only do they administer their businesses well, they also invest and spend better, allocating 90 percent of their income to the better health, training and education for their children," indicated Flores.
Digital transformation with a gender approach
COVID-19 has further exposed the importance of bridging the digital gap. Previously, because it was one more obstacle in the progress of vulnerable people; today because it is an indispensable condition to overcome the impact of the pandemic on all facets of everyday life.
Of the various digital solutions that BBVAMF has developed, Mobile Banking stands out. Already rolled out in Colombia and Peru, it allows its more than 1.8 million customers in both countries to do basic transactions without help from an advisor or even having to go to a branch. In Colombia, most active users are women, so Bancamía, BBVAMF's bank in the country, has included a special section for them with direct access to products designed specifically for their reality, such as health insurance with specific coverage.
"Technology has been fundamental to mitigating the consequences of COVID-19," said Javier M. Flores. He was referring to the digital transformation that BBVAMF launched several years ago as an essential process so that "we can continue accompanying our entrepreneurs remotely, but with the same quality that characterizes us."
But this access to technology requires a previous step: training. Therefore, due to the fact that 35 percent of the women with access to a BBVAMF loan have only received primary education, the foundation has capacity building and financial education programs in the five countries where it has a presence.
Sustainable development training
"For BBVAMF, it is fundamental to complement all of our products and services with a comprehensive training plan that combines business management with a section on family and community well-being," maintained the CEO of the BBVA Microfinance Foundation.  Some of the most notable programs include the Entrepreneurship School in Chile, which includes basic information on entrepreneurship, socioeconomic well-being, business development and social capital. There, Fondo Esperanza serves over 93,000 entrepreneurs - 81 percent of which are women.
Several capacity building workshops were also held in rural areas of Peru to strengthen the business network, which is comprised of the more than 27,000 women served by Financiera Confianza, BBVAMF's bank in the country.
A more sustainable, equal future
Financial products and services contribute to women's financial independence and have a positive impact on their self-confidence and self-esteem. A feeling that is reinforced with the training and supportive network they create as they become leaders not only in their communities, but also beyond, thanks to technology.
However, women also face another significant barrier that hinders their progress. According to the United Nations, climate change affects them more, but they tend to be more willing to adopt new habits that protect the environment.
The most notable example of BBVAMF's commitment to the environment is in Colombia and the Dominican Republic with the MEbA (Microfinance for Ecosystem-based Adaptation) program, which is carried out in partnership with the UN Environment Programme. It includes access to green loans, but also to savings programs and above all, training in more sustainable techniques for agricultural families.
"Over the last thirteen years we have built a way to engage with clients in which their sustainable progress over time is the priority, thus ensuring compliance with our purpose: the sustainable development of vulnerable entrepreneurs," said Javier M. Flores.  "This methodology allows us to contribute to poverty reduction, improving the financial health of our entrepreneurs and the social well-being of their families and communities," he added. For example, 37 percent of the women manage to get out from below the poverty line in the second year of access to financial products and services.
In light of the challenges of COVID-19 and the projections pointing to a severe recession in Latin America, Flores concluded: "The foundation will remain committed, promoting the empowerment of women to transform the world and achieve a more equal and sustainable future." A future propelled by the hard work and the commitment of the more than one million women that BBVAMF supports, like Yamile and Ceneris.