UN Sustainable Development Goal (SDG) 12 sets out the need to foster sustainable and environmentally-responsible consumption and production patterns. Within the scope of this goal, one of the key strategies that countries need to embrace is the so-called "three Rs" approach: Reduce, Reuse and Recycle, to ensure that waste generation and management is as sustainable as possible.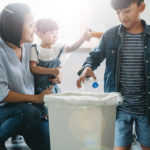 Society, businesses and public administrations have been working together for years to increase public awareness about the need to recycle, implementing measures and policies aimed at finding new uses to a large portion of the waste generated each year.
Recycling yields two key advantages: First, it allows reusing substantial amounts of waste that would otherwise end up in landfills or spoiling natural spaces; Second, it allows generating raw materials and avoid wasting materials and natural resources.
Several countries have managed to increase their recycling rates in recent years by investing in technology, and awareness campaigns and introducing policies aimed at encouraging citizens and businesses to recycle more and better. These are some examples.
Sweden: from waste to energy
There are also 34 Waste-to-Energy power plants in the country, which burn non-recyclable waste to generate enough electricity to power 250,000 households, and contribute to dramatically reduce waste and emissions.
The recycling rate is so satisfactory that the country needs to import garbage from other
countries to keep these power plants at full capacity throughout the year.Northern European countries are pioneers in the sustainable processing of urban and industrial waste. Specifically, Sweden's become extremely successful at sorting and reusing waste, thanks to the firm commitment of its population, and everyone's involvement in the process from their own households.
Japan: optimizing segregation
Thoroughness is the key to the success of Japan's recycling system. Neighbors are responsible for sorting, treating and segregating their household waste, and then complying with the strict and scheduled collection calendar.
For example, prior to disposing of them, plastic containers must be washed, all labels removed, cartons folded to minimize space, then, all waste must be properly labeled with the household data, to ensure that individuals assume full responsibility and comply with all rules. To further instill these recycling habits among the population that there are no garbage cans on city streets, because each individual is responsible for processing their waste at home.
A prime example of the advantages of thorough waste segregation is the town of Kamikatsu, a mountain village that, due to its isolation, separates its waste into up to 34 categories, ensure that all materials that can be reused are recycled and optimize the management of non-recyclable waste. The town has set out to become a zero waste town in 2020.
Switzerland: waste reduction
One of the countries that have best understood the importance of the circular economy is Switzerland. The Alpine country is an example of how citizen awareness can be increased through training and national policies. In this case, efforts have focused on reducing non-recyclable waste with measures such as the single bag. To get rid of this type of waste, you must buy "official" garbage bags with a higher price, while recycling is free.
This has caused the volume of non-recyclable waste generated to decline by about 90 kilos per person per year compared to 20 years ago. Thanks to measures like this, about 93% of glass bottles or 91% of aluminum cans are currently recycled. In addition, the country has become a pioneer in the recycling of organic waste, which is used to make compost.
South Korea: the problem of food
Despite the efforts devoted to recycling plastics, glass and cardboard, food waste is one of the
great problems facing the contemporary world. According to the World Economic Forum, around one third of the food created in the world is spoiled or thrown away, and also means a high cost in terms of greenhouse gas emissions. South Korea has set out to tackle its food waste problem with an ambitious plan that combines deterrent measures with a sizeable investment in technology.
Just as in Switzerland, bags for recycling organic waste have a special price that is used to fund the recycling process, they are biodegradable. The bags are deposited in automated bins that weigh food waste. To use the bins, residents are required to identify themselves using an ID card. The bins then charge the residents based on the amount of weight they deposit. The more you deposit, the more you pay. Thus, the country has managed to cut food waste from 130 kilos per person per year to less than 11. The organic waste collected is used to produce biogas to fuel power plants, crop fertilizers and livestock feed.
Wales: active policies and education
In just 20 years, the British country household recycling rate has increased from 5% to 64%, one of the highest in Europe and expects to keep improving to become one of the world's leading nations in this field.
All this has been achieved thanks to a set of ambitious plans and measures involve everyone, from citizens and businesses to public administrations. The country's success builds on its ongoing three-pronged strategy, which includes the development a streamlined recycling structure to provide citizens with easy access to a simple and efficient recycling system, a comprehensive awareness-raising campaign focusing on the '3Rs' approach as a waste management priority and a policy agenda envisaging both incentive and taxation measures, key to expediting public adopting. In the coming years, Wales is aiming to invest in systems capable of recycling items that, until now, were seen as non-recyclable waste, such as mattresses or diapers.