When a group of employees from BBVA Spain considered covering the nearly 500 miles of the Camino de Santiago (the pilgrimage to the shrine of the apostle St. James the Great in the Cathedral of Santiago de Compostela) by bicycle, they could have done it like almost everyone else: with a small group of friends, taking a week or more, and enjoying daily breaks. But instead, they managed to gather more than 150 people and complete the entire journey in just three days without stopping. And all for a good cause.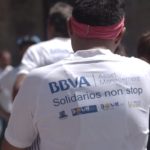 In 2016, more than 250,000 pilgrims completed the different legs of the Camino de Santiago: from France, Portugal, Catalonia, and even from more distant places like Madrid or Andalusia. What began as a trip with a religious purpose has today become a tourist attraction that everyone does for their own reasons. In June, Javier Arias of BBVA Spain did it in a very unconventional way. "We wanted to do something that would combine team spirit, sports, and a good cause, all in the BBVA environment," he says.
Javier was one of the developers on a project that grew increasingly ambitious and, thanks to the support of BBVA Asset Management, it has been a great success: 150 children, women, and men pedaling without stopping, in relay teams, to complete the 780 kilometers from Roncesvalles to Santiago de Compostela. "We think it's a record," Javier says, "because as far as we know nothing like that has ever been done."
But they achieved something even bigger. Many people will be able to improve their lives and gain access to opportunities that were previously beyond their reach thanks to donations from the participants. Four NGOs will be able to carry out their projects thanks to the more than 5,000 euros raised for different initiatives. "The only requirement was that they had to propose concrete actions," Javier says. "We wanted everyone to know how their contribution was going to be used."       
We wanted to do something that    would combine team spirit, sport and a good cause"
The projects range from the acquisition of tablets for educational projects involving disadvantaged youth, to special bicycles for people with reduced mobility and a summer camp for boys and girls with Down Syndrome. "With this project, we wanted to ensure that the most disadvantaged among us could enjoy the same opportunities as other people," explains Pablo del Palacio, one of the organizers.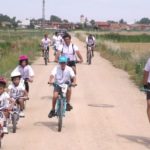 Although the participants come from different backgrounds, they say they are bound by a common goal. Pablo underscored, "The nexus has been BBVA. We are all BBVA employees, and we did it under the auspices of the bank. And, of course, the NGO projects too."
Desire to do something different
Organizing such an ambitious initiative was a complex endeavor. "At first, we thought it was a daunting challenge. But it has given us the opportunity to meet wonderful people who have been really engaged in the project, and they have made up for the lack of means with effort, enthusiasm, and good cheer," says Pablo.
The nexus has been BBVA"
The tour was fraught with complications, even though the riders had a great time doing it, and the result was worth it, as the representatives of the associations themselves pointed out.
Javier has his own way of measuring the initiative's success. In his view, the important thing is "the fun and the laughs" all the participants shared and the fact that it will improve people's lives thanks to the projects funded. He can't wait to do it again. "I look forward to repeating the experience next year. I'm sure we will bring together even more people, we will raise more money, and we will have an even better time than we did this year," he says with a laugh.