BBVA ambassadors work in favor of the most disadvantaged people
Chema Martínez, Carlos Soria, Garbiñe Muguruza and the Roca brothers are carrying out charity activities which demonstrate their individual and professional merits. Integrity, cooperation, humbleness, desire to achieve excellence, commitment, teamwork… These are their qualities as BBVA Ambassadors and the values which the company espouses.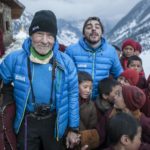 Sports, gastronomy and social commitment have come together on several occasions, thanks to the work of the BBVA Ambassadors and the banking entity. Some of the initiatives have drawn hundreds of participants and the outcome has been very positive (BBVA charity race, grant programs or social media campaigns, among others).
Donations for different causes
The athlete Chema Martínez and a team of eight people were at the forefront of a challenge which combined cycling and charity in August. The aim was to cycle 700 km between Madrid and the top of Tourmalet with the help of social media users. The participants wanted to raise funds for the fight against Chagas disease. This tropical condition affects over seven million people in the world, causes irreversible damage to the heart and may even result in death.
In this case, social media played a fundamental role in completing the challenge. Every tweet and retweet with the hashtag #RetoChagas, every photo in Instagram with this hashtag and every Facebook comment on the posts of Chema Martínez added kilometers. The campaign was a huge success. Each kilometer meant another €100 until €70,000 were raised and then given to the Mundo Sano foundation and the fight against this disease.
Tennis player Garbiñe Muguruza had already shown her charitable nature as a BBVA Ambassador in campaigns such as #laraquetadeGarbiñe. This time she is in a tender picture with Álex, a small boy with disabilities, which has been included in the 2016 calendar of Fundación Talita. This selfie is part of a project that aims to change how we view people with special needs by showing their values and abilities.
The initiatives of the BBVA Ambassadors are not restricted to Spain. After the terrible earthquakes in Nepal, Carlos Soria organized several charitable activities. These activities included a charity trekking with the help of Asociación Ayuda Directa al Himalaya. The event took place in October and funds were partly used to rebuild houses in remote Nepalese villages. Also, Carlos Soria and Jordi Roca (Celler de Can Roca) called for people to make donations for the victims of the earthquake through a crowdfunding campaign organized by several NGOs on BBVA Suma.
Gastronomy and social commitment
The Roca brothers were also involved in other charity activities. The owners of the best restaurant in the world, Celler de Can Roca, cooperated with the whisky brand The Macallan to prepare a series of charity dinners in the summer. "The Ultimate Dinner" showcased a menu inspired by whisky aromas.
Also, Joan, Josep and Jordi Roca volunteered to join the United Nations Development Program (UNDP) in view of working closely with the Sustainable Development Fund. Thanks to their charity work, they have been given the title of "United Nations Goodwill Ambassadors." During his speech at the United Nations, Josep Roca summarized the challenge they face and their social commitment: "We need to achieve an environmentally sustainable, socially just and economically inclusive food chain which ensures access to food for everyone."