BBVA formalizes North American Stainless' first sustainability-linked deposit
BBVA and North American Stainless (NAS), the U.S. subsidiary of the Acerinox Group, signed a $100 million deposit. It is a relevant operation for both companies as it is NAS' first sustainability-linked deposit, and the first deposit of this kind that BBVA has signed with a U.S. client.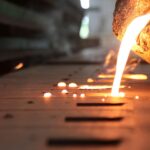 The leader of U.S. steel, North American Stainless (NAS), signed its first sustainability-linked deposit with BBVA. The funds from this $100 million deposit will be used for the maintenance of BBVA Corporate & Investment Banking's (BBVA CIB) sustainable portfolio, which is comprised of assets considered sustainable according to the eligibility criteria described in BBVA's sustainable transaction banking framework.
Acerinox and BBVA signed the first sustainable loan in the steel industry in Spain in 2020. Its U.S. subsidiary, North American Stainless, a leading company in the production of stainless steel in the U.S., is also very committed to the environmental impact. NAS is a huge recycler of steel, with a long history defending waste reduction, the reuse of materials and the recycling of metallic and non-metallic materials.
Rodolfo Hare, Senior Banker of Grupo Acerinox in BBVA New York, said: "The long-standing global relationship between Acerinox and BBVA has been strengthened by these new sustainable deposits recently closed by North American Stainless (NAS) at BBVA New York. Acerinox has always been an ideal candidate to place sustainable deposits and the solution was very well received by the NAS team since the first time it was presented to them last year."
Bernardo Velázquez, CEO of Acerinox, added: "This time deposit operation demonstrates the Acerinox Group's strategy of continuing to advance in a social and environmental commitment."
BBVA, a leader in sustainable finance
As a sign of its commitment to the fight against climate change, BBVA approved its Pledge 2025 in 2018, in which it committed to mobilize a total of €100 billion in green financing, sustainable infrastructure and financial inclusion. Three years later, and after reaching the figure of €59 billion, the bank increased its target to €200 billion. By December 2021, it had already mobilized €86 billion.
BBVA has the capacity, knowledge and experience to provide its clients superior advice regarding sustainable financing solutions and it is playing a key role in this market. In 2018, the bank took one step further in its objective of supporting its corporate clients in their sustainable financing strategies through an innovative sustainable framework for transaction banking products, pioneering in the industry.
This methodology makes it possible to classify its clients transaction banking operations as green, social or sustainable. At the end of 2019, under this same framework, new products were launched (confirming and deposit lines) that include a new angle to certify products linked to sustainability. In 2021, BBVA signed 114 sustainable transaction banking operations totaling €4.97 billion, approximately.