BBVA holds its first sustainability forum in Uruguay
The President of Uruguay, Luis Lacalle Pou, and the country manager of BBVA Uruguay, Alberto Charro, gave the opening presentations at the BBVA Sustainability Forum this Tuesday in Montevideo. A meeting where government officials, experts and the business community analyzed various initiatives to support the fight against climate change. BBVA Chair Carlos Torres Vila recorded a video message in which he stressed the need for all countries to join the race to decarbonization in Latin America, and emphasized the progress in Uruguay in its transition toward a more sustainable economy.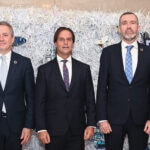 The 1st BBVA Sustainability Forum in Uruguay brought together a broad group of government officials, led by President Lacalle Pou; the Minister of Industry, Energy and Mining, Omar Paganini; the Minister of Livestock, Agriculture and Fishing, Fernando Matos; and the Minister of Economics and Finance, Azucena Arbeleche. Joining them are Félix Fernández-Shaw, director of Latin American relations at the European Commission, and renowned local business people like Marcelo Secco (CEO Grupo Marfrig); Rosario Bazán (CEO Danper Perú); and Diego Wollheim (CEO Montes del Plata), who will address the challenges of moving toward a society with net zero emissions. BBVA Global Head of Responsible Business, Antoni Ballabriga, participated in the first of the tables.
After thanking BBVA for the invitation to the event, Uruguayan President Lacalle Pou spoke on the progress achieved by the country's public policies, including investments in environmental projects. In his Administration, he pointed out, environmental concerns are addressed at a Ministry level. Moreover, he described the public initiatives now underway to move toward an emission-free economy: closure of landfills, electric mobility projects, and attracting investment for green hydrogen innovation.
Alberto Charro, BBVA's country manager in Uruguay, underlined that BBVA is supporting its clients in achieving a successful climate transition. "Sustainability has picked up momentum over the past decade. For us it is a strategic priority, but it is also a priority for companies and for the whole country itself. At BBVA, we are working to place Uruguay as a front-runner in sustainability. It is a key moment to tackle an issue that is transforming the economy and must be addressed urgently," he stated. The senior executive also pointed out BBVA Uruguay's pioneering initiatives: the first Uruguayan sustainable bond; the first loans funding electric vehicle purchases; and the first Master Agreement with Fideicomiso REIF—a renewable energy innovation fund—to work shoulder-to-shoulder with the UN in promoting the second energy transition.
Alberto Charro, country manager of BBVA Uruguay, stressed BBVA's work in the country to support its clients in this transition, and its pioneering role, with initiatives like the first Uruguayan sustainable bond, the first loans for electric vehicles and the first framework agreement of the Renewable Energy Innovation Fund (REIF) trust to promote the energy transition with the UN. "We can contribute our international experience to promote the creation of a green hydrogen export hub, and together with the Central Bank, we want to support you to decarbonize the portfolios of Uruguayan banks, by reducing capital consumption for sustainable credit, for example," he explained.
Meanwhile, the BBVA Chair, who participated with a video, recalled that the decarbonization of the economy represents the greatest disruption in history - not only due to the magnitude of the challenge, but the urgency with which it must be carried out, and the investments needed, approximately $275 trillion by 2050, over eight percent of global GDP up to this date.
Carlos Torres Vila stressed that decarbonization is non-negotiable. It must be economically viable, profitable and the rest of the countries have to join the decarbonization race. "And this is essential because without a joint effort on a global level, we will not attain an emission-free planet. The transition toward a decarbonized economy is an immense challenge, but it is also a source of enormous opportunities," he said.
The BBVA Chair indicated that Uruguay could be a clear winner in this transition because the country has undergone an initial energy transition, and is a role model for its use of renewable energy sources. In addition, it has already started its second energy transition based on replacing fossil fuels in transportation, with the additional goal of exporting green hydrogen. "Another great asset that sets Uruguay apart is its natural resources: the sun, the wind, the sea; as well as its stable institutional framework, putting it in an enormously advantageous position when it comes to attracting foreign direct investment," he added.
Finally, Carlos Torres Vila recalled that just like Uruguay and its companies, "At BBVA, we have been pioneers in our commitment to sustainability, in preparing ourselves to take advantage of the opportunities that arise from the transition to a decarbonized economy. In fact, on a business level, growth is so rapid that we have tripled our initial sustainable finance target to €300 billion by 2025," he concluded.