BBVA joins Earth Hour, turning off the lights at its corporate headquarters
Citizens, companies, city councils and institutions from all over the world will turn off the lights this Saturday, March 25 for Earth Hour to fight against climate change and the loss of biodiversity. Since 2007, BBVA has participated in this initiative organized by the World Wide Fund for Nature, shutting down corporate headquarters and buildings distributed throughout all the geographies where the bank is present.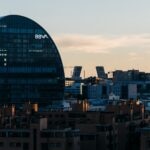 For one hour each year, thousands of iconic buildings and monuments around the world, such as the Eiffel Tower and the Colosseum, turn off their lights. Earth Hour has become one of the largest global initiatives in defense of the environment. This year it will take place on Saturday, March 25 from 8:30 p.m. to 9:30 p.m. At that time, citizens, companies, municipalities and institutions around the world will voluntarily carry out a massive blackout. BBVA will once again participate in this initiative by shutting down 77 buildings, including all corporate headquarters, and 50 offices spread over more than 68 cities where the bank is present.
This initiative was launched more that 10 years ago as a symbolic gesture to draw attention to the problem of climate change. The World Wide Fund for Nature (WWF) organized Earth Hour for the first time in Sydney in 2007. Since then, every year, individuals and organizations from all over the world have participated in the initiative. In past editions, according to WWF, more than 17,000 buildings and monuments have been turned off.
"We want to remember that nature is the life support system of the planet, which provides us with everything we need, from the air we breathe to the water we drink and the food we eat," explains the World Wide Fund for Nature on its web page. For this reason, protecting nature is essential to "safeguard the health of our planet and, in turn, our own health and well-being."
BBVA's commitment to sustainability
In climate action, BBVA raised its target to €300 billion channeled to sustainable business by 2025, tripling its initial target set in 2018. By the end of 2022, the bank had already mobilized €136 billion since 2018.
Furthermore, the bank will no longer finance coal by 2030 in developed countries, and by 2040 in all other countries. The bank has also set intermediate decarbonization targets for 2030 in five other sectors (power generation, automobile manufacturing, steel, cement and gas and oil), with the aim of being carbon neutral by 2050.