BBVA leads a new transaction in Italy and consolidates its leadership in sustainability in Europe
BBVA has closed a new deal in Italy with the gas utility SNAM, thus reaffirming its position as a leading structuring bank of sustainable solutions in the European loan market. The transaction is a €3.2 billion revolving credit facility (RCF), the third sustainable loan in Italy led by BBVA as sustainability coordinator.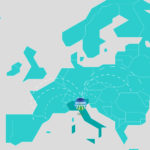 BBVA acted as joint sustainability coordinator alongside Citi, assisting SNAM in converting the already existing €3.2 billion RCF into a sustainable solution which margin is linked to three KPIs. The transaction has been certified by the sustainability rating agency, Standard Ethics and with it, SNAM becomes the first gas utility across the world to sign a sustainable RCF.
The 19 local and international banks that participated in the deal alongside BBVA are: Bank of America Merrill Lynch, Bank of Tokyo Mitsubishi, Barclays, BNP Paribas, Citi, Crédit Agricole, ING, Intesa, JP Morgan, Mediobanca, Mizuho, Société Générale, Sumitomo Mitsui, NatWest, Unicredit, Cassa Depositi e Prestiti, Goldman Sachs and Morgan Stanley.
BBVA, a leader in sustainable financing
BBVA has the ability, knowledge, and experience to provide its clients with superior guidance on sustainable financing solutions, both in bonds and loans, and is playing a key role in the development of both markets.
As a pioneer and key driver in the sustainable loan business, today BBVA is one of the most active banks on the world stage and the undisputed leader in Spain and Italy. In the past two years the bank has leaded 21 sustainable transactions in Europe and the Americas for clients in various sectors.
Additionally, in 2017 BBVA was the most active bookrunner in the Iberian green bond market. The bank is recognized as a global leader after having advised, placed and structured green bonds for clients in different sectors in Mexico, the U.S., and Europe both in local currencies as well as in euros and dollars.
About SNAM
SNAM is Europe's leading gas utility. Founded in 1941 as "Società Nazionale Metanodotti", it has been building and managing sustainable and technologically advanced infrastructure guaranteeing energy security across Europe for 75 years. SNAM operates in Italy and, through subsidiaries, in Austria (TAG and GCA), France (Teréga), and the United Kingdom (Interconnector UK). It is one of the main shareholders of the Trans Adriatic Pipeline (TAP) and is the company most involved in projects related to the creation of the Energy Union.
First in Europe by transport network size (over 32,500 km in Italy, about 40,000 with international subsidiaries) and natural gas storage capacity (16.7 billion cubic meters in Italy, about 20 billion with international subsidiaries), SNAM manages the first liquefied natural gas (LNG) plant built in Italy and is a shareholder of the country's main terminal.
SNAM's business model is based on sustainable growth, transparency, nurturing talent, and development of local areas by dialoguing with communities. It fosters sustainable mobility, expands into energy efficiency, and invests in biomethane and innovative technologies to increase the use of renewable gas, a key resource of the green economy.