The BBVA Microfinance Foundation, a pioneer in leveraging technology to foster development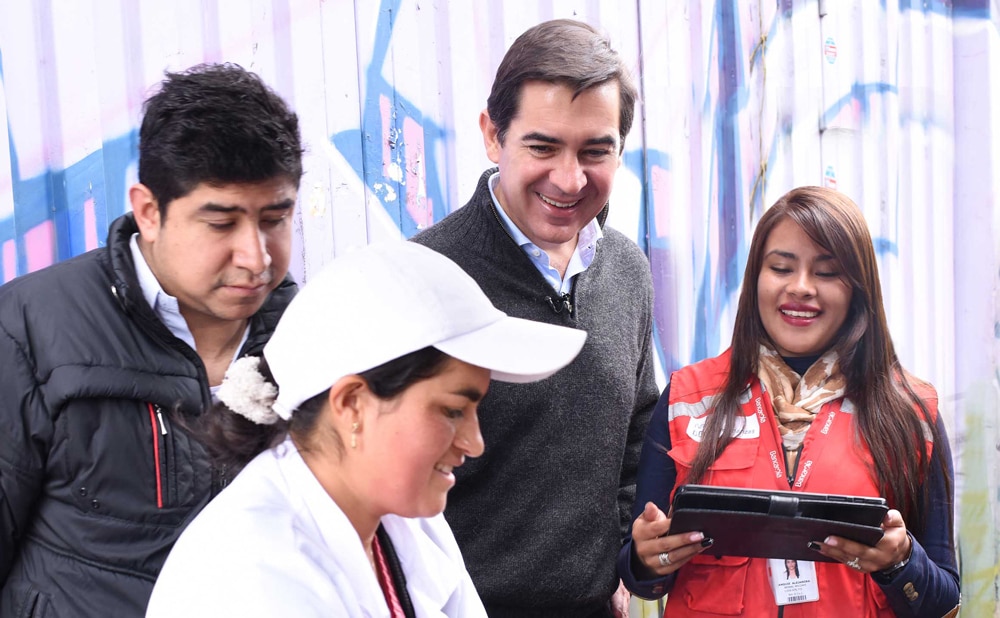 BBVA CEO Carlos Torres Vila got a first-hand glimpse into the level of progress that the BBVA Microfinance Foundation's digital strategy is enabling. Bancamía, the Foundation's lending arm in the country, is managing to reach more and more customers who, until recently, had struggled to access financing as a result of the digital divide. BBVA's CEO learned about two of the entrepreneurs backed by the institution and how microcredits have afforded them new opportunities to pursue a brighter future.
Santa Cecilia is a neighborhood in the outskirts of Bogota. Sprawling across the city's northeastern hills, it is blessed with some of the most breathtaking views of the Colombian capital. Outside the 'Buenavista' bakery, some neighbors enjoy a cup of tinto (black coffee) and a dish of papas sudadas (steamed potatoes) as they wait for one of the buses that will take them to work, because there are no public transport services in this area. Celina Delgado owns the bakery. Besides bread, buns and rolls, she also serves breakfasts. At age 8, she left the countryside and moved to Bogota, in search of a better future. Today she can say that, through hard work and support from the BBVA Microfinance Foundation, some of her dreams are starting to come true.
"I wasn't able to go to school and was very wary of going into debt and not being able to pay off my loans," she recounts from the bakery's kitchen. Celina started with a loan for about 700,000 pesos (a bit over €200) to buy the ingredients she needed. "I paid one or two days in advance, before each installment due date. After six months paying, I suddenly realized that I only had six more installments to take care of," she proudly explains. With two additional loans from Bancamía - BBVA Microfinance Foundation's lending arm in Colombia – Celina was able to expand her bread making operation and set up a beauty and cosmetics mail order business. Today, she's about to open her own restaurant in another area of the city, to move to a better place with her 10 year old daughter.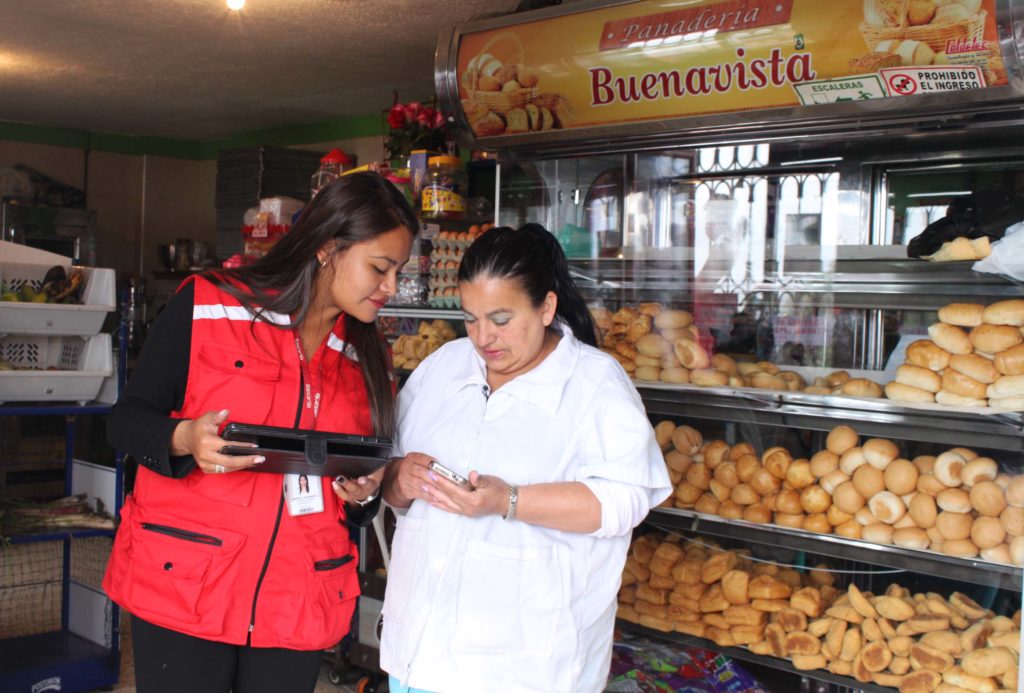 Alejandra Bernal, advisor at Bancamía, BBVA Microfinance Foundation's lending arm in Colombia, together with Celina Delgado. - BBVA
Celina and Luis, her husband, also a Bancamía customer, shared their story with BBVA CEO Carlos Torres Vila, during his visit to Bogota, where he was able to get a hands-on glimpse into the progress made by some of the entrepreneurs that the BBVA Microfinance Foundation is helping. "In the bank we have a purpose, which is to 'Bring the age of opportunity to everyone' and what the BBVA Microfinance Foundation is doing it is exactly that; it helps people with little resources to pursue a brighter future by offering them small loans," said Carlos Torres Vila after meeting Celina. "We're seeing how the Foundation's entrepreneurs learn about a one-of-a-kind digital model, which enables them to easily manage their loans and savings accounts."
Banking technology to bridge the digital divide
Bancamía relies on 1,300 advisors to bring its services to customers like Celina and Luis. Alejandra Bernal is one of them. This 23 year-old woman joined the company four years ago. In January this year she started strolling along the steep streets of Santa Cecilia to tend to the needs of the institution's more than 200 customers. Thanks to the tablet she carries with herself, Alejandra is able to help poorly connected areas such as this one to benefit from the advantages of technology, offer a better service to the Foundation's customers and bridge the digital divide. "Being able to talk to their advisors face to face gives our customers the confidence they need to embrace this digital model, and make it part of their daily lives," explains Carlos Torres Vila.
Currently, 95% of loan operations with Bancamía are processed through the tablets of the Foundation's financial arm in Colombia
The advisors visit the customers and perform a pivotal role financial educators, offering advice and access to financial management tools through Bancamía's app. In this manner, customers can enjoy a quicker and more efficient service, accessing the technology that helps them manage their finances without wasting time or money. "I ask them about business sales, income, family matters, etc. to determine their creditworthiness," says Alejandra. "For them, all this is quite modern, but we help them and make it easier for them to renew their loans, check their account balances, movements, etc. That saves them a visit to one of our branches," says the advisor.
Currently, 95% of loan operations with Bancamía are processed through the tablets of the Foundation's financial arm in Colombia. "We visit them every week with a tablet, but we also teach them how to transact with the app," she concludes.
The best arepas in Bogota
At the foot of the hill that leads to Santa Cecilia, in the junction of carrera 7 with calle 156 in the Barrancas neighborhood, one can find what many swear are the best arepas with cheese in Bogota. Two years ago, Dary Guerrero took over her husband's food cart business after taking out a one million peso (about €300) loan with Bancamía.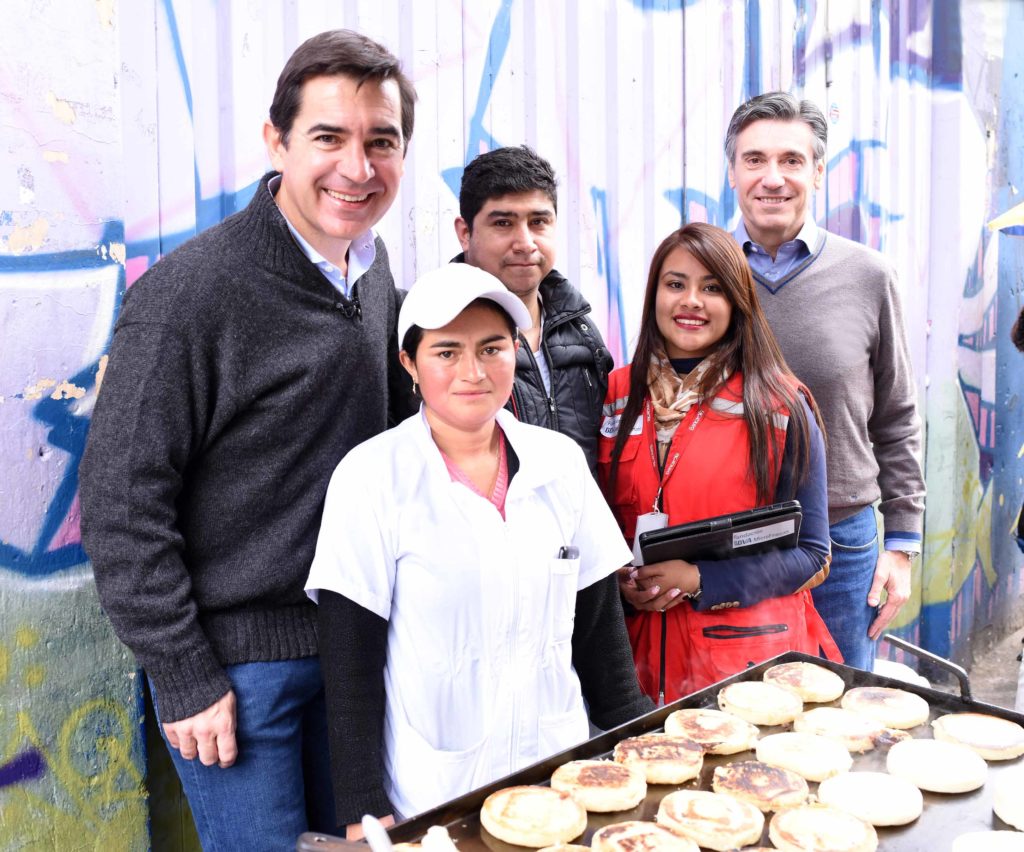 Carlos Torres Vila, CEO of  BBVA, and Javier Flores, BBVA Microfinance Foundation General Manager visit the entrepeneurs from the foundation in Colombia. - Bancamía
"We've gone from selling about 100 arepas, to about 300 in the morning and 80 in the afternoon," explains Dary to Carlos Torres Vila, who was able to get a taste of the product's top-quality, and witness the line of hungry customers patiently wait before her stand. For the BBVA CEO, Dary and Celina "are an extraordinary example of drive, effort and commitment. Of how, with just a bit of help, people can get ahead in life and make a different in their communities."
Dary and her husband Albeiro wake up at 3 in the morning to prepare the dough to make their arepas. Thanks to their boost in sales, they are now looking into buying a home, even parking the food cart and setting up a restaurant in which to sell their delicious arepas.
In Barrancas, wi-fi connections are better than on the Santa Cecilia hills. This allows Dary and Albeiro to be much more independent when managing their accounts. "They don't have so much trouble accessing Bancamía app, and this allows them to manage their business even more independently," says Alejandra, who's also the couple's advisor.
The growth of these two businesses is just an example of BBVA Microfinance Foundation's work in Colombia through Bancamía. With 938,700 customers and an average loan of €1,250, the institution is spearheading a pivotal initiative in the country, helping bridge the digital gap that keeps the country's least-favored segments excluded from the financial system. And the trust that these 1,300 advisors build with their customers is a key part in this process. "Now that the business is doing well, other institutions have offered me loans. But I've rejected them all. I really trust my advisor and Bancamía," says Celina, standing on her shop's doorway while she gazes at the splendid views of the city, under the sign that speaks for itself: "Panadería Buenavista."