BBVA reports on its progress in sustainability by releasing its third TCFD disclosure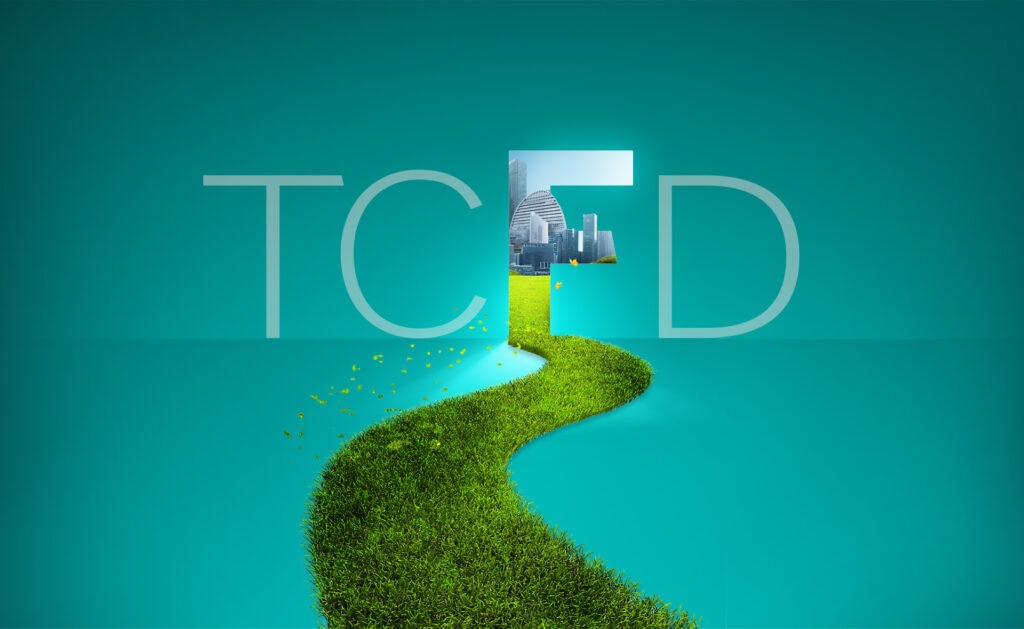 "Decarbonization of the economy is perhaps the biggest disruption in history. We have 30 years to achieve a society that is free of greenhouse gas emissions. This is a huge challenge that requires drastic changes in our behavior, but it is also a rich source of opportunities," stated BBVA Chairman Carlos Torres Vila.
BBVA has aligned with the recommendations of several international organizations in the field of non-financial reporting. The TCFD standard, promoted by the Financial Stability Board since 2015, urges entities to specify the resilience of their strategies to climate-related risks (physical and transitional) and opportunities.
In the report, the bank outlines its progress on its governance model, its strategy, and its ability to manage risks, and reports key metrics relating to climate change.
Governance model: our new Sustainability global business area
BBVA views sustainability and climate action as strategic priorities, and embeds these concerns in its day-to-day activities, both facing customers and within internal procedures.
In 2021, the bank bolstered its strategy by raising sustainability to the organization's top executive level. The Sustainability global business area was created in support of our pledge to become the leading bank in this domain.
The Sustainability area is now in charge of designing our strategic sustainability agenda, specifying and supporting vectors of endeavor in global transformation units and developing new sustainable products.
BBVA has also set up a network of experts across the group who will generate sustainability knowledge in units that engage in advising customers.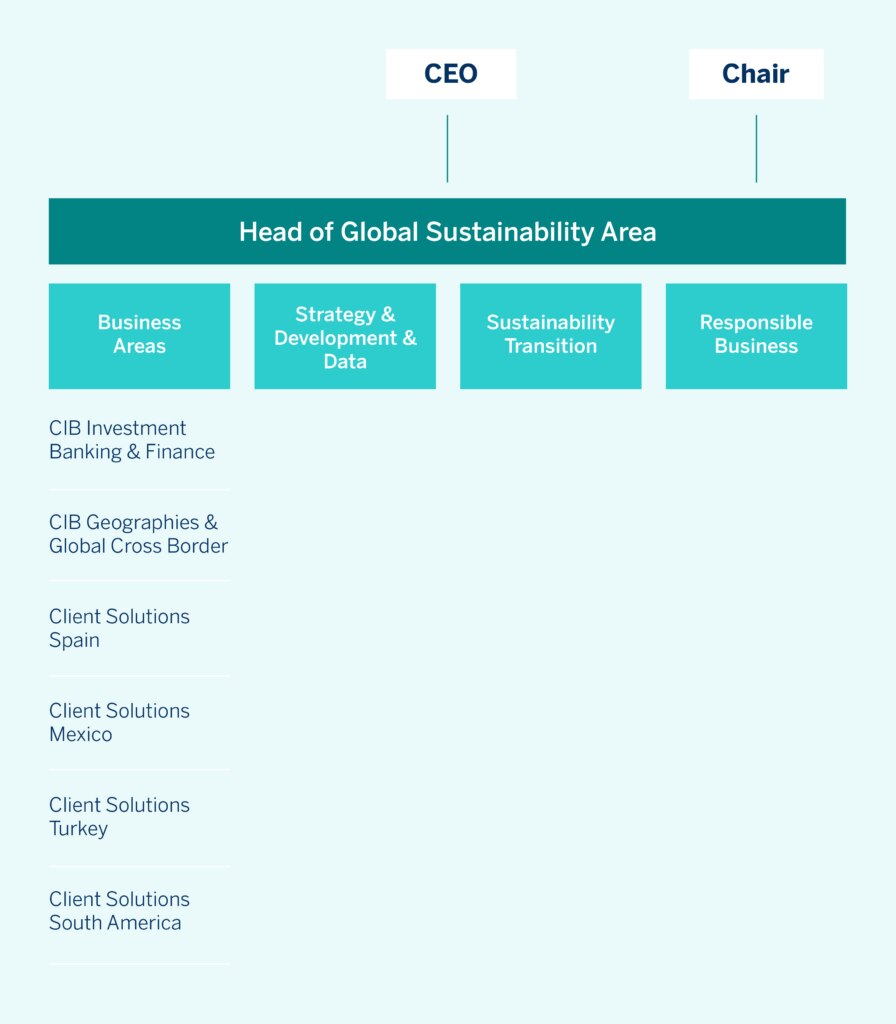 *Business areas co-report to the Global Sustainability Area
Risk management and internal taxonomy
BBVA assesses and manages the climate-related risks and opportunities that have an impact on its business.
With a view to mitigate adverse impacts, the bank draws a distinction between physical risks that are directly consequent upon climate change, such as extreme weather events, and, on the other hand, transition risks, which are inherent in the shift toward a low-carbon economy, involving legal developments and changes in the market, in technology and in consumer behavior.
BBVA has developed a methodology to classify sectors according to sensitivity to this type of risk. The bank also identifies customer-level metrics that enable to assess their vulnerability and integrate this variable with risk and customer support decisions.
BBVA's climate footprint
The TCFD report also breaks down the impact of BBVA's business on the climate. Since 2020, the bank itself is neutral in terms of net greenhouse gas emissions in its direct business–our own operations and power usage at offices. We have now made a commitment to ensure that indirect business–encompassing our borrowers and investment customers–also achieves neutrality by 2050.
In 2021, the bank achieved a 67.5% reduction in its direct carbon dioxide emissions worldwide compared to 2015, coming close to the 68% target set for 2025. Moreover, in 2021, 79% of energy consumption in BBVA's facilities worldwide came from renewable sources, exceeding the 70% target set in the bank's 2025 commitment on direct environmental footprint.
Direct footprint per employee
BBVA's environmental footprint per employee also shows highly positive data with respect to the base year 2019 (which we take as a reference since the 2020 data are distorted by the effect of the pandemic). There were 54% reductions in Scope 1 and 2 emissions, according to the market-based method, which reflects the type of electricity we buy (renewable or non-renewable).
In 2021, in per-employee metrics, overall energy and electricity consumption decreased by 14%
In addition, in 2021, in per-employee metrics, overall energy and electricity consumption decreased by 14%, water consumption was down by 5% and paper consumption declined by 32%. Regarding the transition to the circular economy, net waste per employee dropped by 52% in 2021 versus 2019.
Indirect footprint
In 2021, the bank announced its commitment to reduce its indirect footprint by joining the Net-Zero Banking Alliance (NZBA). The banks in this international alliance pledge to make all lending and investment portfolios net greenhouse gas neutral by 2050 as a target date. This aligns with the science and the most ambitious goals of the Paris Agreement.
In line with this commitment, in 2021 the bank committed to reduce exposure to coal-related activities to zero by 2030 in developed countries and by 2040 elsewhere.
In 2022, BBVA has announced that it will double its financing for sustainable activities to €200 billion. From approval in 2018 through 2021, the bank has channeled a total of €85,817 million, which accounts for 43% of the target set in its 2025 Commitment. Specifically, in 2021, €35,337 million was channeled, of which 87% went to climate action and 13% to inclusive growth.
BBVA's commitment to sustainability is reflected in its ranking on the Dow Jones Sustainability Index (DJSI) for 2021: we achieved the highest score among banks, alongside South Korea's KB Financial Group.
The bank is aware of the key role of banking in the transition to a more sustainable world. In line with this commitment, BBVA has adhered to the Principles for Responsible Banking promoted by the UN, the Katowice Commitment and the Collective Commitment to Climate Action.
Commitment to transparency
BBVA has committed to consistent, reliable and standardized reporting of key ESG (environmental, social and governance) issues related to its business.
Among the several existing standards, BBVA discloses its non-financial information in the Statement of Non-Financial Information for financial year 2021 in accordance with guidance from the Global Reporting Initiative (GRI). In addition, on a voluntary basis, for the first time BBVA has published its progress via ESG disclosures according to metrics with a strong reputation in the market:
WEF-IBC core metrics. BBVA was one of the first banks worldwide to support the Measuring Stakeholder Capitalism initiative of the International Business Council (IBC) of the World Economic Forum (WEF).
The Sustainability Accounting Standards Board sets standards to guide companies on disclosure of relevant and consistent financial information relating to sustainability.
This year, however, we took another step forward in our commitment to ongoing improvement in transparency. Assuming responsibility in ESG matters, the rest of the WEF-IBC metrics and the indicators under the SASB: Consumer Finance and SASB: Mortgage Finance standards were reported in order to offer complete disclosure in both fields.
An increasing number of companies are reporting their performance using these metrics. BBVA will continue to work on its commitment to meet the demands of investors, regulators, customers and other stakeholders to maintain or enhance its ESG performance.