BBVA supports the Carolina Foundation's education efforts on its 20th anniversary
On Thursday, BBVA Chairman Carlos Torres Vila attended the meeting of the Carolina Foundation Board of Trustees, which was presided by King Felipe VI, at the Royal Palace in El Pardo. The Carolina Foundation, of which BBVA has been a trustee since its inception, celebrates its 20th anniversary in 2020.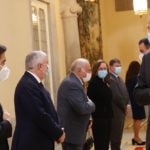 The event was also attended by Spain's President and Executive Chairman of the Board of Trustees, Pedro Sánchez; Vice President Carmen Calvo; the Minister of Economic Affairs and Digital Transformation, Nadia Calviño; the Minister of Foreign Affairs, Arancha González Laya; the Minister of Education, Isabel Celaá; the Minister of Industry, Trade and Tourism, Reyes Maroto; the Minister of Culture and Sports, José Manuel Rodríguez Uribes; the Minister of Science and Innovation, Pedro Duque, as well as other authorities and trustees of the institution.
The Carolina Foundation was created by agreement of the Council of Ministers on September 22, 2000, with the aim of promoting cultural relations and cooperation in educational and scientific matters between Spain and Latin America and other countries with which it has special historical, cultural, and geographic ties. The Foundation contributes to the fulfillment of the UN's Sustainable Development Goals by supporting SDG number four: quality education.
BBVA shares objectives and values with this institution, including its support for education as way of creating opportunities and addressing the inequalities found in society. "We both work for a better future, especially for the Latin American community," says Carlos Torres Vila, in the commemorative book published to mark the 20th anniversary. "Over the next 20 years, the Carolina Foundation will continue to be at the forefront, contributing to the development of people and the future of our society."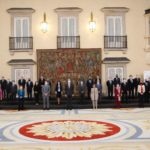 Family photo of the meeting of the Board of Trustees of the Carolina Foundation, held at the Palacio de El Pardo on December 3, 2020.