Doctors Without Borders is facing an unprecedented situation in the refugee crisis
The world is currently facing the biggest forced migration crisis since the Second World War. Approximately 60 million people have had to leave their homes because of war, persecution or unstainable conditions in their home country. In the report "Obstacle Course To Europe: A Policy-Made Humanitarian Crisis At EU Borders", Doctors Without Borders/Médecins Sans Frontières (MSF) warns of the desperate situation of refugees arriving in Europe.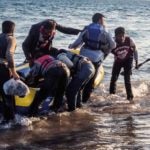 The NGO states that the European Union (EU) and its member states should address the humanitarian and medical needs of approximately one million people crossing into Europe. The situation has increased mafia activity and pushed refugees to seek new routes and risk their lives.
Unheard-of situation
MSF is conducting an unprecedented situation. Between January 1 and December 15, 2015, their teams saw around 1,000,000 patients on board refugee boats. Between May and December 2015 alone, they rescued and helped almost 24,000 people in the sea. MSF states that never before has it had so many medical-humanitarian programs in place in Europe, and involving so many staff members, and never before have it had to mobilize boats to carry out search and rescue operations in the sea.
Forty-five MSF staff members were mobilized to carry out search and rescue operations on three vessels in the Mediterranean Sea. One operation cost 11.5 million euros. A further 489 staff and 20 million euros were mobilized to respond to the humanitarian needs of refugees in Italy and Greece, the Balkans, and in their countries of destination. These teams provide healthcare assistance at any time of day or night, build temporary shelters and deploy water and sewage services. However, as the report states, this organization does not have the key to solving the conflict; it can only bring relief to the victims.
Kos, Lesbos, Athens, Samos, the border with Macedon, Leros and other islands in the Dodecanese Archipelago are Greek hotspots where MSF has been acting. In Italy, they are focusing on Sicily, namely Pozzallo and Ragusa, and different areas of the country, including Rome. In the Balkans, MSF is working in Serbia, Hungary, Slovenia and Croatia.
MSF reports that 85% of refugees are from countries with high levels of forced migration. Approximately half of these refugees are from Syria, 20% from Afghanistan and the rest come from Iraq, Eritrea and war-ridden countries such as Somalia and Sudan.