October 7 marks the celebration of Financial Education Day, a day that aims to raise awareness about the importance of a good financial education. Throughout the week training and awareness-raising activities will be held around the world. BBVA participates in various activities and announces the second installment of EduFin Talks, taking place in Madrid on Tuesday, October 8.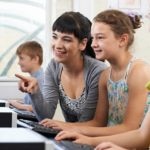 EduFin Talks is an event that encourages reflection on and discussion about topics related to financial skills and education. In its second year, the Talks will be held at the BBVA Open Space facility in Madrid. Anyone interested in attending can register by clicking on this link. The event will also be available via 'streaming'.
EduFin Talks, organized by BBVA's Center for Financial Education and Capability, uses a practical and dynamic approach to compile pragmatic policies and action points that address current and future social challenges related to financial education. These events are led by an expert who, after delivering an initial presentation, opens the session to a live debate with audience participation. This year, the speaker is David Tuesta, former finance minister of Peru, who will speak about digital financial education and the benefits and risks that digitization represents.
BBVA will also participate in other events related to the week's theme of financial education. One of these events, a round table addressing financial education, will take place during the opening ceremony for RadarSeres 2019 in Madrid's Royal Theater on Tuesday October 8. Also, on Friday October 11, BBVA's director for community investment programs, Lidia del Pozo, will participate in a panel discussion entitled, "Financial health in Spain: how to improve it".  Organized by JPMorgan Chase and the Nantik Lum Foundation, this event will be held in the Pirámide building in Madrid.
In commemoration of Financial Education Day, both the week's and month's schedules are equally full of events dedicated to finance. Some of the more notable initiatives taking place in Spain are described below.
The First National High School Economics debate tournament
The first National High School Economics Debate Tournament for juniors and seniors will take place thanks to the organizers, Spain's General Council of Economists (CGE). The competition is one of the activities the falls under the 2018-2021 Financial Education Plan, a plan spearheaded by Spain's National Securities Market Commission (CNMV) and the Banco de España, in collaboration with CGE. The objective is to develop the skills and knowledge that students need in order to have a suitable level of financial education.
The local rounds will take place between October 16 and November 8. There will be 198 educational centers registered with participants, representing different provinces across Spain. To conclude the event, the 20 best teams will compete in the final, to take place on November 26 and 27 at the Madrid headquarters of the Banco de España. The winning prize will be presented by Pablo Hernández de Cos, governor of the Banco de España, CNMV Chairperson Sebastián Abella, and Valentín Pich, Chairperson for CGE.
The 900 Line
It has become customary, and this year is no exception, for the Banco de España to set up a free telephone consultation line. Interested parties can call 900 54 54 54 between September 16 and October 11 in order to have their questions about personal finances answered or get more information about the activities related to Financial Education Day. The line is open from 8.30 a.m. to 5:00 p.m.
PlayPension championship
Schools in the regions around Madrid and Valencia have qualified to compete for a place in the grand finale of the the PlayPension Competition. This event is an online game set up by the Mapfre Foundation to teach students between the ages of 14 and 18 how to work with budgets and make investments to prepare for unanticipated future events..
The registration period ends on October 7, and the deadline for completing the qualification activities is October 11. The final round with the winning teams from previous stages and award ceremony will be held on October 29 in the Mapfre Foundation Madrid headquarters.
More information and registration can be found at this link.
Children's Workshops
Spain's National Association of Credit Unions (UNACC) and its Union of Teaching Cooperatives (UeCoE) have joined forces to deliver a series of workshops in elementary schools in order to teach children how to save. Over the course of the workshops, students will learn concepts about savings, expenses, deposits, and money, together with Alejandro and Greta, the two young protagonists of the comic strip published by UNACC: "Learn how to save with Alejandro and Greta."
More information at this link.
Financial education "vis a vis"
Spain's stock market and financial system operator (BME) repeats its "Financial education vis a vis" initiative, organized through the BME Institute. This event will take place in the streets of various Spanish neighborhoods throughout the day on October 7. Over the course of the event, financial experts will provide information to the general public about investing in the stock markets and financial education.
More information at this link.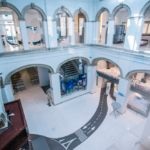 The second edition of EduFin Talks will take place on October 8 at the BBVA Open Space in Madrid.