Garanti BBVA announces intermediate decarbonization targets
In line with its Net Zero Banking Alliance commitments, Garanti BBVA announced its interim decarbonization targets for 2030. As the first bank in Türkiye to announce that it will no longer fund coal-related projects, Garanti BBVA joined the UN-convened Net Zero Banking Alliance in 2021.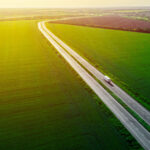 In 2022, Garanti BBVA took its commitment to exit coal one step further and became the first bank in Türkiye to announce interim decarbonization targets for other carbon-intensive sectors, in line with the PACTA (Paris Agreement Capital Transition Assessment) methodology.
As part of its climate action commitment, the bank has set risk-weighted emission intensities for the energy, automotive, iron and steel and cement sectors in 2022 and reduction targets through to 2030 based on a long-term perspective and inclusive, accountable, decision-oriented and sector-specific principles. Garanti BBVA CEO Recep Baştuğ stated, "At Garanti BBVA, we are aware that the financial sector has important duties in the fight against climate change. The bank is therefore determined to support its customers' transition to a more sustainable future by supporting their decarbonization efforts and funding their investments in new technologies and production methods."