Garanti BBVA financed 22.5% of wind energy projects in Türkiye
BBVA's Turkish franchise is one of the main drivers of renewable energy projects in the country.
Garanti BBVA has achieved a new milestone in its commitment to sustainability. In wind power projects it leads the market with a 22.5% share. "We believe in the potential of renewable energy in Türkiye, so we are pioneering project finance in this field," explains Recep Bastug, CEO of Garanti BBVA.
Garanti BBVA has been financing 100% renewable energy projects in its new electricity generation project finance portfolio since 2014. This year the bank led the largest rooftop solar power project in Türkiye with a financing of 400 million Turkish liras. In 2021, it helped to fund Europe's largest solar project, with a capacity approaching 1,350 MW.
Garanti BBVA's financing of renewable energy comprises $2.79 billion in wind power, with an installed capacity of 2,810 MW—which will rise to 2,907 MW once all projects are 100% operational—and $2.48 billion in hydro power, with an installed capacity of 3,677 MW. Elsewhere, the bank has allocated $263 million to geothermal projects (with an installed capacity of 337 MW when operational) and $396 million to solar energy projects (with an installed capacity of 575 MW). Finally, biomass-fueled energy projects account for close to $124 million in financing and installed capacity of 134 MW, as of the end of 2021.
Total carbon dioxide emissions avoided thanks to the solar, wind and hydro power projects financed by Garanti BBVA amounted to almost 8.48 million tCO2e in 2021 alone. This figure will be driven up by the new projects in the pipeline.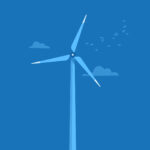 In 2021, Türkiye ranked fifth in Europe and 12th in the world in terms of installed renewable energy capacity. "Garanti BBVA has been involved in sustainable initiatives and the fight against climate change for more than 15 years, with innovative financing models. We will continue to support Türkiye's renewable energy transformation by meeting its ambitious investment needs," stated Bastug.  
Garanti BBVA's commitment to the climate
In addition, Garanti BBVA was the first bank to announce that it will no longer fund new coal or mining projects in Türkiye by 2040, and the first bank in Türkiye to set an absolute emissions reduction target for 2035 in line with the science-based targets methodology. It met its goal 15 years ahead of schedule by achieving carbon neutrality as early as 2020.
Finally, in September 2021, the bank earned international recognition as the first company from Türkiye to make a commitment to the United Nations Net Zero Banking Alliance.  As a member of the Alliance, Garanti BBVA has committed to align its portfolio with the goal of zero net emissions by 2050 and to support the transition of its clients to a more sustainable economy.
By the end of 2021, green assets accounted for 24% of the project and acquisition finance loan portfolio overall and, within the portfolio, for 67% of power generation projects and 33% of infrastructure projects (highways, airports, port facilities and healthcare complexes).