Garanti BBVA launches Türkiye's first ecommerce loan for car rentals
Garanti BBVA has signed a new agreement with Enterprise Türkiye to encourage the use of electric mobility and car rentals. Within the scope of this collaboration, the bank is offering its customers an ecommerce loan, namely a Buy Now Pay Later (BNPL) loan, to rent energy-efficient electric vehicles with a low carbon footprint.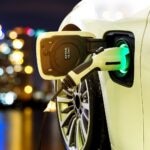 One of Garanti BBVA's newest eco-friendly products, the ecommerce loan will support both environmental protection and mobility. It offers customers attractive interest rates and favorable payment terms. Those interested can apply for the loan on www.enterprise.com.tr, at Enterprise Türkiye, Garanti BBVA Furniture or through Garanti BBVA Internet banking.
Garanti BBVA Consumer Finance Director, Koray Öztopçu, analyzed the growing interest in electric mobility products and car rental in recent years, stressing that they make people's lives easier, especially in large cities. "With car rentals, consumers have the opportunity to meet their transportation needs and use the vehicle as long as they need, paying only for the time they use. That is the reason we began offering our customers this ecommerce loan, thanks to our agreement with Enterprise."
Enterprise Turkey CEO Özarslan Tangün also said; "I predict that individual customers will be moving towards models that allow for use as needed; therefore more renting and car sharing. We are currently offering the ecommerce loan through Garanti BBVA on our sales channels - both on our website and in our offices. In the future, car rental will be even more accessible and faster and will serve as an example for additional collaboration with the sector."