Garanti BBVA sees need to accelerate investments in renewable energy in Türkiye
BBVA's Turkish unit has become a leading force in the Turkish market, financing nearly 25 percent of Türkiye's wind and solar energy installed capacity.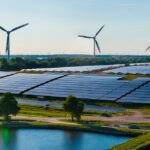 Garanti BBVA continues to spearhead sustainable efforts in Türkiye, channeling more than $6 billion of financing to a wide array of renewable energy projects in 2022.The bank recently assessed the potential of this business in the country and according to Deputy General Manager Mahmut Akten, there is an "urgent need to accelerate investments in renewable energy." 
The bank's significant financing contributions and its vision of a future powered by renewable sources are fully aligned with the country's environmental targets and aspirations for sustainable energy production. However, the bank's assessment of the energy sector also underscored the need to expedite investments in wind and solar energy facilities.
The Garanti BBVA executive pointed out that Türkiye's electricity consumption results in 480g of carbon emissions per kilowatt-hour (kWh) compared to the European average of 300g. Akten also believes it is necessary to offset the heavy reliance on electricity imports in order to reduce carbon emissions.
According to Garanti BBVA estimates, by 2035, renewable energy plants will constitute at least 74 percent of Türkiye's total installed capacity, aiming to achieve net-zero emissions no later than 2053.
Garanti BBVA's Akten acknowledged the success story of renewable energy investments in Türkiye, with 42 percent of electricity production in 2022 stemming from renewable sources. Solar energy accounted for five percent of this production, while wind energy contributed 11 percent. The bank executive attributed this success to the Renewable Energy Support Mechanism (YEKDEM), implemented in 2005. The rapid increase in Türkiye's installed capacity for renewable energy to 55 GW has facilitated easier access to financing.
Additionally, he praised the foreign currency-based base price mechanism included in the YEKDEM program, stating that they have been "instrumental in securing long-term and cost-effective foreign currency financing." Nevertheless, Akten emphasized that Türkiye still has a long way to go, considering its substantial potential in the field.
Investments in hydrogen and storage, a new priority
Looking ahead, Akten expects an increase in battery investments, driven by tenders for stored wind and solar power plants. Garanti BBVA has observed significant potential in this area, evident through the growing number of license applications and financing requests from investors. He also stressed the importance of focusing on investments in storage, hydrogen, and other areas in conjunction with renewable energy, as Türkiye's commitment to reducing carbon emissions gains momentum.