The Turkish men's wheelchair basketball team, the 12 Brave Hearts, will take part in the Tokyo 2020 Paralympic Games, sponsored by Garanti BBVA. The players, who have already accumulated some important victories in European and World Championships, including Gold in 2017 and Bronze in 2019 at the European Championships, will once again represent Turkey at the Tokyo 2020 Paralympic Games, as they did in London 2012 and Rio 2016. This year, the Turkish team will compete in Group A and will play against South Korea on August 26. In addition to the Korean team, the group is made up of teams from Canada, Spain, Colombia and Japan, the host country.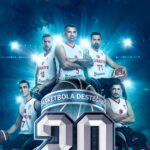 Garanti BBVA has been supporting this sport for 20 years now, and wheelchair basketball in particular since 2013, to promote the development of athletes in international competitions. It also helps to increase the support of society and the private sector for sports for people with functional diversity.
In addition to sponsoring the Turkish men's wheelchair basketball team, BBVA's Turkish franchise continues to offer support through campaigns and communication initiatives in all the championships in which it participates, as seen in the video for Tokyo 2020.
Click on the following link to watch the video
Participation Schedule of the 12 Brave Hearts' in the Tokyo 2020 Paralympic Games
August 26: North Korea - Turkey (8:45 a.m. Turkish time)
August 27: Turkey - Canada (3 a.m. Turkish time)
August 28: Turkey - Spain (3 a.m Turkish time)
August 29: Colombia - Turkey (3 a.m. Turkish time)
August 30: Turkey - Japan (8:45 a.m. Turkish time)