Latin America: more growth thanks to the digital transformation
Latin America will be one of the leaders of the global economy. The digital transformation has been one of the keys to this reduction in poverty and improvement in social indicators. But how has it helped? One example is digital financial inclusion.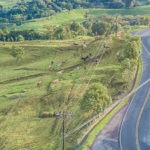 This is how BBVA's Executive Member of the Board, Head of Global Economics, Regulation and Public Affairs José Manuel González-Páramo explained it at the opening session of the Ibero-American Public Leadership Program. Participants from 13 Latin American countries, besides Portugal, will be taking part in the program this year. BBVA is collaborating with the Carolina Foundation and CAF Development Bank of Latin America for this program. José Manuel González-Páramo indicated that: "We want to contribute to the sharing of experiences and best practice, to the knowledge of government systems, to improving the quality and effectiveness of public policies and to the overall strengthening of institutions in Ibero-America."
He began his remarks by analyzing the economic outlook for the region. "In Latin America this will be, fortunately, a turning year, where we will see positive figures, after two years of negative growth." BBVA Research is predicting that Latin America's economy as a whole will expand by 1.1% in 2017 and 1.6% in 2018. Next year's growth will be accompanied by a boost from the external sector, better exchange rates, higher global growth and an increase in investment.
In the digital arena, José Manuel González-Páramo underscored the arrival of new technologies in the region, which allow cash transactions to be replaced by card or mobile payments. These tools play a highly significant role in financial inclusion. "Technological development is offering a huge, unparalleled, opportunity to boost financial inclusion, because technology is levelling the playing field for everyone again."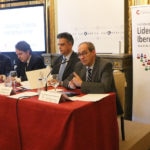 BBVA's Executive Member of the Board, Head of Global Economics, Regulation and Public Affairs José Manuel González-Páramo during his speech - Fundación Carolina
The virtuous triangle of financial inclusion
BBVA's Executive Member of the Board made reference to the "virtuous triangle", which consists of three factors: digital development in Latin America, an appropriate regulatory framework and financial education.
In terms of digital development, José Manuel González-Páramo stressed the need to boost the development of the technological infrastructure, i.e. promote accessibility to broadband networks at moderate prices. He also underscored the importance of having an adequate regulatory framework. "We need regulations that guarantee equal access to financial services."
However, in order for everything to work properly, an environment that promotes financial education is essential. For BBVA, financial education is one of the strategic priorities of its responsible business policy and to this end, the bank follows the OECD ) Organization for Economic Cooperation and Development) recommendations. Over the past nine years, BBVA has invested more than $80 million in financial education programs for more than nine million people in the countries where the bank has a presence. In 2016 alone, the program has benefitted over 2 million children and young people.
Also attending the program's opening session were Roberto Bermúdez de Castro, Secretary of State for Territorial Administrations; Gustavo Rovira, managing director of the Carolina Foundation; and Guillermo Fernández de Soto, Corporate Director of the CAF Development Bank of Latin America in Europe.