The 14th edition of Turkey's Women Entrepreneurs Contest begins
Organized by Garanti BBVA, the Ekonomist magazine and the Turkish Association of Women Entrepreneurs (KAGIDER), the event marks the start of the process to present candidacies for this new edition.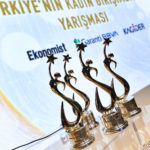 Those entrepreneurs who feel proud of their professional career and wish to share their success stories to inspire other women can register for the contest until December 14, 2020 on the website www.garantibbvakadingirisimci.com. The first prize award of 75,000 Turkish lira will be presented to the "Female entrepreneur of the year". The winners of the categories "Young female entrepreneur with the brightest future", "Female entrepreneur who has had the greatest impact on her region" and "Social female entrepreneur of the year" will each receive 50,000 Turkish lira, respectively.
"At Garanti BBVA, we promote the active participation of women in the economy in order to achieve sustainable economic development," declared Cemal Onaran, Executive Vice President of Garanti BBVA. "That's why it is a pleasure to continue offering support and motivation for women entrepreneurs through Turkey's Women Entrepreneurs Contest."
Women who are the owner or majority partner of any small or mid-sized company that legally operates in Turkey are eligible to participate, as well as those who have participated in previous editions. Each of the contest categories have specific requirements. However, some of the general criteria that will be taken into account when selecting applications include: risks assumed and demonstrated value, effectiveness of customer service, originality of marketing activities, contribution to the regional economy, respect for the environment and innovative and sustainable proposed solutions for social problems.
The awards ceremony will take place on March 5, 2021. .