Tom Davidson: "We want to put financial education into the hands of those who need it"
Everfi is a leading educational technology company that uses social games, videos, and animation among other tools to provide financial education to everyone, at any age, anywhere in the world.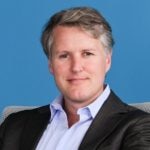 "If the mountain won't come to Muhammad, then Muhammad must go to the mountain." This famous proverb takes on new meaning in the hands of Everfi, which has managed to reach the most remote corners of the United States through its innovate financial education technology platform. "Financial literacy is a huge missing piece of the puzzle in American life and has had a devastating effect," said Tom Davidson, Everfi's founder, CEO, and member of the advisory board of BBVA's Center for Financial Education and Capabily. "It's usually something that we learn through our mistakes rather than in a positive and instructive way. I have yet to meet someone that hasn't had multiple moments of financial errors. At worst there are some who can get stuck in a tough cycle of poverty as a result of a lack of knowledge." The solution that Everfi proposes is to use the latest technology "as a way to scale this knowledge and track its effectiveness."
A trip that changed everything
Everfi is a prestigious company that has received financing of more than $250 million from institutions such as TPG Capital, The Rise Fund and from influential icons like Jeff Bezos, CEO of Amazon, Evan Williams, founder of Twitter, and U2's front man and activist, Bono. Its technology is at the core of important initiatives for customers like American Express and Mastercard, as well as the major sports leagues like the NFL, NHL and MLB.
Everfi's origins, on the other hand, were much more humble. "My co-founders and I spent many years working in education before founding EverFi." Davidson recalls. "We realized that there were areas outside of the core curriculum that had a significant effect on student success. We knew we wanted to start in Financial Literacy as we had all been touched by challenges with personal finance, student loans and more." Before diving into the project, they decided to take a trip that would change their lives: "We loaded up into an RV and drove from coast to coast...to be on the ground talking to teachers, folks in the community, parents, educators, superintendents, and others to find out where the issues were." Immersing themselves in the real world helped them clearly define the direction for Everfi. "We really just learned so much about how school systems worked which saved us a great deal of time thinking about how technology could actually be integrated in schools."
Since then, Everfi has managed to grow their project and achieve numbers that the founders are proud of. "We currently provide online education to K12 students in all 50 states and have over 9 million K-12 enrollments – 4 million of which are from students attending schools in low to moderate income communities.  On the adult side, we are providing crucial information on everything from planning for retirement to saving for your children's education to launching a small business." The total number of people trained with Everfi is impressive: "Over the last 10 years we have reached over 21 million learners.  Even I find this number pretty hard to believe sometimes!" the founder proudly stated.
Personalized training for everyone
Far from resting on their laurels, Everfi is tackling new challenges. "Across the coming year we are putting a massive investment behind our product to provide more sophisticated data tracking and impact measurement as well as new content and delivery areas," says Davidson. "We are investing serious time and energy into getting financial education into the hands of more people who need it,; from university students, to workplace banking partner employees, to seniors and caregivers.
In this context, BBVA Compass plays a fundamental role, working to provide financial literacy to students and raising awareness with world business leaders in conferences organized by Everfi. "BBVA has been a true partner to us in every sense of the word." says Davidson. "They have also pushed us to become better, more innovative, and more dynamic. I can honestly say that our portfolio of Financial Education offerings would not be as strong as it is were it not for our partnership with BBVA."
The future looks exciting for Everfi as it faces the challenge of offering increasingly personalized training specific to the circumstances of each student. "You'll not only see technology-driven change in the classroom, but also an expanded ability for students to choose the type of content that interests them, and teachers educating students individually by pulling together a number of different sources and platforms," explained Davidson. "We want to pick the most difficult, intractable social problems – financial literacy and college readiness, summer learning loss and character education, opioid addiction and violence in schools – and continue to build large technology platforms that allow the most important institutions in the world to go after this in a meaningful way at scale."