A team of "ruteros" become social entrepreneurs with the support of BBVA
The winning team of the Social Entrepreneurship Program of Ruta BBVA 2015 is already working hard to make their collaborative economy project a reality. Mar Ballcels, Isabel Andolz, David Chiarri, Andrea Sánchez, Gemma Jordá and Elena Roca-Umbert are very motivated to take on this challenge.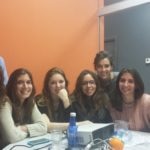 These young social entrepreneurs were given 2,000 euros seed capital by BBVA and the possibility to continue working to develop the project with advice from Initland. All the members of the group, who have shown a great rapport from the beginning, responded as one when they received the proposal. "We had the chance to leave the project, whoever wanted to, but we all decided to continue as a group and give it our best", says Mar Balcells, the author of the original idea.
The proposal made by this young Catalonian was, in principle, to open an agro-ecological cooperative in Lérida, where she lives. However, as the team started working, this initiative evolved and became more ambitious until it turned into a digital platform for exchanging services and buying and selling agricultural products, lowering prices by removing intermediaries.
The first steps have already been taken. At the first meeting at the beginning of February, the young entrepreneurs and the advisors from Initland studied the existing business models in the sector (benchmarking) and the nature of the project from a customer and consumer point of view. "Right now we're at the point of deciding which will be our business model from among the most viable and feasible proposals", explains Mar Balcells. The second meeting will be held on March 8, in which, according to the model chosen, the timeline for implementing the project and the roles of each member of the team will be established.
This collaborative economy initiative was chosen from 28 high level social entrepreneurship projects. The jury admired the fact that it responds to a real problem in society and its financial and environmental sustainability. These two features give the project future potential and means that it can be scaled. Now that work has begun, there are very positive feelings. According to Paula Jaureguibeitia from Initland; "They are very motivated to execute a tangible project based on the idea that they worked on in Route BBVA. Everything suggests that the team will perform very well this year".