The BBVA Foundation brings the artist Jenny Holzer to the Guggenheim Museum in Bilbao
The exhibition "Thing Indescribable" by Jenny Holzer will be open to the public until September 9th. Sponsored by the BBVA Foundation, the exhibition consists of a wide range of artwork created specifically for the Guggenheim Museum in Bilbao. BBVA Foundation Director Rafael Pardo, Guggenheim Museum Bilbao Director Juan Ignacio Vidarte, the artist Jenny Holzer and curator Petra Joos attended the opening event.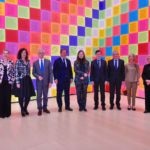 The Guggenheim Museum in Bilbao is offering a new exhibition dedicated to the abstract artist from Ohio. Starting March 22nd, those visiting the Bilbao museum will be able to enjoy a series of installations that aim to involve and invite visitors to define their position regarding current social problems, such as the global refugee crisis, violence against women and abuse of power.
The artist herself attended the opening event, accompanied by Guggenheim Museum Bilbao Director Juan Ignacio Vidarte and BBVA Foundation Director Rafael Pardo.  The curator of the exhibition, Petra Joos, also attended.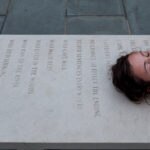 Jenny Holzer. Memorial Bench II: Eye cut by flying glass…, 1996 (detail). Indiana Buff limestone bench (44.1 x 182.9 x 61 cm). Text: Erlauf, 1995. Courtesy the artist © 2019 Jenny Holzer, member Artists Rights Society (ARS), NY / VEGAP. Photo: Erik Sumption
Thing Indescribable
The exhibition covers the past forty years of Holzer's career through her reflections, ideas and afflictions enshrined in different installations - electronic signs with robotic devices, paintings and projections of light. With categorical and incisive text, the artist addresses fundamental themes of human existence, such as power, violence, beliefs, memory, love, sex and death.
The U.S. artist worked directly with the curator, Petra Joos, and most of the artwork included in the exhibition was made specifically for the space housing them. Holzer also has another exhibition that is part of the Guggenheim collection, Installation for Bilbao (1997), which was commissioned for the opening of the museum.
The artist will also display a series of projections of light on the facade of the famous Frank Gehry building. The images will contain text from Basque, Spanish and international poets. They will be visible at dusk until March 30th as part of several nighttime public events.