"I am not permitted to comment anything about actions that are subject to a judicial investigation"
Statement from BBVA chairman Carlos Torres Vila at the opening of the course organized by the Spanish Association of Financial Journalists (APIE) at the Menéndez Pelayo International University in Santander.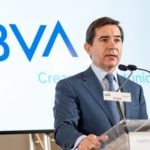 "As you all know, the investigation we are carrying out is still underway and is subject to the judicial inquiry. That means that the investigation that is really important is the one being carried out by the Spanish National High Court, with which we are actively collaborating, as it could not be done otherwise, and we will continue to do so."